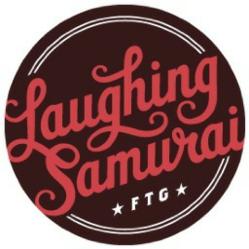 We are a Creative Agency.
We do the same thing,
just Bolder and Faster.
Orlando, Florida (PRWEB) December 29, 2012
Laughing Samurai is a creative branding agency that helps businesses and companies of all sizes to improve their brand awareness, and it has recently released a new set of brand building services for start-ups and small companies, including a new set of business-based creative strategies that blend with all kinds of requirements.
With the boom of entrepreneurs and small businesses around the globe, the demand for creative agencies has also seen a considerable surge. There is no dearth of companies that are all set with their businesses, but are failing to get that big kick-start, which can get them started in a big way. And, to assist such businesses, Laughing Samurai has launched an affordable brand-building service.
Click here to learn about different creative services offered by Laughing Samurai
Explaining the problems faced by small business owners, CEO of the company said, "Most new businesses struggle to prove how different their services are and some even fail to reach out to their prospect customers. Advertising firms are helpful, but today even they struggle to leave a mark in a specific niche."
Laughing Samurai is a creative and branding agency, which offers branding services to companies of all size in United States, as well as throughout the globe.
The company believes in staying in the same box as others, but focuses more on delivering services with a difference. Recently, the branding agency launched a new set of brand building services for start-ups and small companies, which includes newer creative strategies to reach out to a wider section of customers at an affordable price point.
Talking about the working experience clients have with Laughing Samurai, the CEO of the company commented, "Working with ad agencies or a creative agency like Laughing Samurai can be a joy and a challenge. Creative marketing challenges you to push the limits of communicating with your consumers. Creative marketing carried out in the right way brings joy to the world by providing entertainment in a space that would otherwise be filled with advertisers who only shout 'buy this product.'"
The branding agency also promotes green business, which is are in demand right now. The agency helps different businesses become greener in their methods and not only contribute to the environment, but also capitalize ethically on their noble work. Emphasizing the importance of green advertising, the V.P. of the company said, "The direction the world is progressing towards the greener end of life. Laughing Samurai helps green businesses that have made the choice to operate from a green mentality develop green advertising solutions."
About the Company
LaughingSamurai.com is one of the leading branding agencies in the world and offers creative and branding services to companies of different sizes across U.S. Some of the big clients of the creative agency include Ken Hoffa, Zyxogen, Seagram's Gin, Microsoft, Amazon, and Adobe.
Learn more about the company at http://www.laughingsamurai.com/.