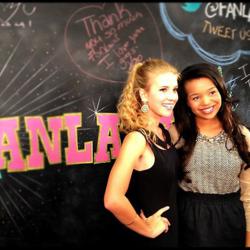 "Having a Southern California studio allows us to tap into the local talent to produce the highest quality and socially relevant programming for our Fanlala community. - Alan Anderson, President and CEO of Fanlala
SAN FRANCISCO and LOS ANGELES (PRWEB) December 19, 2012
Fanlala, the leading online lifestyle destination for teens and tweens, is leveraging the Los Angeles-based facility to expand upon its growing lineup of premium original content and web-based series. The creative studio, nestled in the hip Santa Monica community, has already played host to teen stars including singer Keke Palmer, Bridgit Mendler from "Good Luck Charlie" and Wizards of Waverly Place," the band IM5, Kendall Schmidt from "Big Time Rush," actress Bailee Madison, "Fred" and "Marvin, Marvin" star Lucas Cruikshank, Peyton List from Disney's "Jessie," The Wonder Girls, Caroline Sunshine from "Shake it Up," Cymphonique from Nickelodeon's "How to Rock," the cast of Lifetime's hit docuseries Dance Moms and more.
"Having a Southern California studio allows us to tap into the local talent to produce the highest quality and socially relevant programming for our Fanlala community," said Alan Anderson, President and CEO of Fanlala. "We are excited by the positive feedback we've received from celebrity guests and Fanlala members alike."
Some of the popular new series in production in Santa Monica include:

The Fanlala 5ive - an interactive weekly music countdown series hosted by up-and-coming talent Soren Bryce Martin. Each episode is built around the online community's favorite pop stars and musicians; featured acts are determined by weekly polls that appear online at Fanlala.com.
Daphne's Look of the Week - an online/video on demand series hosted by Radio Disney personality, Daphne Blunt. This weekly series highlights the hottest personal and red carpet styles worn by Hollywood's biggest teen celebs. Daphne breaks down the looks and shows teens hot to get the same look for less.
The Fanlala Feed – also hosted by Daphne Blunt, this weekly news wrap up covers top stories from the world of teen entertainment. The show includes clips from recent Fanlala interviews with celebrities at Hollywood events, movie premieres, film sets and more.
Dressing Room Dish – this series takes fans backstage to find out where their favorite stars hang when the director yells "Cut!" Teen celebs show off their dressing rooms and "dish" on what you can find them doing in between scenes.
Josie and Her Celebrity Friends - a new fictional comedy series featuring the girl-next-door, Josie, and all of her celebrity friends who stop by to chat about life.
"Our audience is always asking for fresh, new video content to interact with," said Anderson. "The response to Fanlala's new programming has been fantastic and we've seen a tremendous amount of success thus far. Not only are we showcasing talent on Fanlala.com, but we are also working with key distribution partners including YouTube, AOL On, Blinkx and Kabillion on Demand."
New video content, in conjunction with editorial coverage and added social features on Fanlala.com com have driven traffic numbers exponentially in 2012. Among the most popular features with the community are polls and quizzes. Since launching in August, the community has created more than 350 user-generated polls, which have accumulated more than 51,000 total votes. Fanlala guests have also generated more than 5,200 pop-culture quizzes, which have been taken more than 523,000 times.
For more information visit http://www.Fanlala.com, "like" us on Facebook and follow us on Twitter and Pinterest!
About Fanlala Online
Fanlala is the go-to social entertainment and lifestyle site for tweens and teens that offers the best of popular media tailored just for them in one safe place. From original content and customized music to entertainment news and cool community features, Fanlala is a fresh online community that delivers teen content when and where they want it. Fan up at http://www.fanlala.com.
# # #