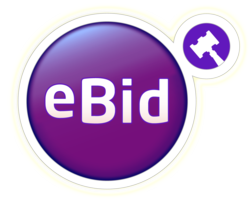 Online auction site eBid (www.ebid.net) has compiled some of the most surprising, inspiring and valuable finds of 2012. From garage sales, thrift stores and their own attics, average people continue to stumble upon treasures right under their noses.
Miami, FL (PRWEB) December 20, 2012
Online auction site eBid (http://www.ebid.net) has compiled some of the most surprising, inspiring and valuable finds of 2012. From garage sales, thrift stores and their own attics, average people continue to stumble upon treasures right under their noses.
1) While cleaning his late aunt's house in Ohio this June, Karl Kissner discovered a bundle of baseball cards over 100 years old in a cardboard box. These mint-condition cards of Ty Cobb, Cy Young and Honus Wagner, and other historical greats has been called "the most significant find in the history of the hobby," by Chris Ivy of Heritage Auctions. The cards have been valued at more than $3 million and Mr. Kissner believes they were owned by his grandfather who may have used them to help promote his butcher shop. Mr. Kissner commented, "When I opened the will, my Aunt had put little hand written notes in it, ok. And one of the little notes in it was, 'Karl, as you go through the house you will find things you never knew existed.' Could not have been a truer statement."
2) Early in the year, an 81-year old South Carolina man - who is only willing to be identified by his middle name, "Leroy" - bought a painting for $3 at Goodwill. Having a good eye, he thought it might be worth "a couple hundred dollars" so he had it appraised. Turns out, it originated from a Flemish school in Amsterdam and was painted around 1650. The painting sold at auction in March for $190,000.
3) Harv Bennett, of Pomona, CA was very happy to have saved an Atari 2600 game cartridge with its box and manual for more than 25 years. Considered the rarest of video games, his copy of "Air Raid" sold at auction in November for $33,433. The game is considered rare because it's believed that less than 20 were ever produced - because it was so boring. Mr. Bennett had worked decades ago at a discount store where the game's sales representative came in to persuade him to stock it. He gave Bennett a sample copy and when Bennett told him he didn't think it would work for the store, the rep told him (probably further discouraged) that he could keep it.
4) In May, at the Volunteers of America thrift store in Columbus, OH, Zach Bodish paid $14 for what he assumed was a reproduction Picasso poster advertising a 1958 Picasso ceramics show. Examining it further when he got home though, Bodish soon got a shock when he realized some red marks in the poster's corner could be Picasso's own signature and the poster proved to be an authentic original. He sold the print to a private buyer for $7,000.
5) Beth Feeback, a North Carolina resident bought a $10 abstract painting at Goodwill. She was going to paint over it, but her friends urged her to Google some of the names on back, "Weatherspoon Art Gallery" and "Ilya Bolotowsky". She soon learned that Bolotowsky was a well-known abstract painter who had fled Russia in the early 20th century and the painting titled "Vertical Diamond" is valued at around $20,000.
6) In August, Chattanooga, TN resident Stephon Tull was cleaning out his father's attic in Chattanooga when he stumbled onto something startling: an audio reel labeled, "Dr. King interview, Dec. 21, 1960." It turned out to be a never-before-heard interview with Dr. Martin Luther King, Jr., an amazing piece of history but also one with monetary value, as it was sold to a private collector for an undisclosed sum.
7) In October, a novice treasure hunter in bought his first-ever metal detector from a shop in St Albans, Hertfordshire, UK. Later that day, he returned carrying 40 gold Roman coins asking "What should I do with these?" The shop owners were stunned and returned with him to the site in the woods bringing their own equipment. They ultimately found 119 more coins in the cache, for a total value of more than £100,000 ($162,000).
8) In November, some workers with quick eyes at a Goodwill donation center in Tacoma, WA noticed the quality of a donated picture. Some research proved it to be in fact a signed Salvador Dali etching. It's titled "Reflection" from Dali's "Cycles of Life Suite", number 126 of 150. Goodwill auctioned it on their site and sold the piece for over $21,000.
9) Schoolteacher Jane Cordery in Basingstoke, Hampshire, UK, was cleaning out her attic and found a forgotten painting that had been given as a gift years before. She emailed a photo to Christie's auction house which immediately identified it as a piece by Victorian artist William James Webbe, painted around 1856. Christie's appraised it at £70,000 ($113,000) but it ultimately sold at auction in December for £589,250 ($955,000), setting a world record for the artist's works.
10) Most recently, Karen Mallet, in Milwaukee, WI, bought an abstract print for $12.34 at her local Goodwill store. It turned out to be a signed lithograph titled "Red Nose" by American artist Alexander Calder. While the piece has been appraised at $9,000 by Jacob Fine Art Inc., Ms. Mallet has no intention to sell it "Red Nose". "It grew on me," she said. "Now I love it."
When it comes time to sell those treasures, eBid.net is a great place for that. It's one of the world's largest, hosting over 5.4 million live auction listings representing a gross marketplace value of nearly $3.5 billion. And best of all, eBid charges no listing fees and only a nominal 0% - 3% in final value fees, making it one of the fairest deals in the ecommerce industry (always a great idea when you're selling that original Picasso...) Further, eBid will actually pay you through a generous affiliate program just for adding banners/links to your website, emails or Facebook pages. And perhaps the biggest bonus of all - eBid members can earn rewards up to $104.99 for a single referral. Details on the affiliate program are available here - http://us.ebid.net/help_affiliate.php.
About eBid.net
Founded in the UK in 1999, eBid.net is now a global company with a presence in 23 territories across the UK, Europe, USA and Canada, Africa, Asia, Australasia and South America. With a commitment to person to person online auctions, eBid.net is recognized as the "best eBay alternative" by Webuser Magazine.
Sources:
1) http://news.yahoo.com/baseball-cards-ohio-attic-might-fetch-millions-162732574--spt.html
2) http://www.huffingtonpost.com/2012/03/06/south-carolina-man-buys-p_n_1325065.html
3) http://www.geek.com/articles/games/rare-atari-game-air-raid-sells-for-33433-2012115/
4) http://www.nydailynews.com/news/national/ohio-man-7-000-picasso-poster-bought-thrift-store-14-14-article-1.1076246
5) http://www.huffingtonpost.com/2012/07/23/north-carolina-woman-find_n_1690850.html
6) http://www.msnbc.msn.com/id/48755288/ns/us_news/t/unheard-martin-luther-king-interview-found-attic/#.UM94jRimuc5
7) http://www.dailymail.co.uk/news/article-2218640/Novice-treasure-hunter-bought-basic-metal-detector-40-Roman-coins-worth-100-000.html
8) http://blog.seattlepi.com/thebigblog/2012/11/15/salvador-dali-painting-donated-to-federal-way-goodwill/
9) http://www.dailymail.co.uk/news/article-2248756/Nest-egg-Dusty-owl-painting-attic-fetches-590-000.html
10) http://news.msn.com/pop-culture/hidden-treasure-dollar9k-artwork-bought-for-dollar12-at-goodwill
# # #