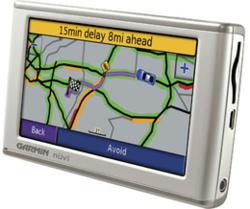 (PRWEB UK) 20 December 2012
With the advent of GPS units in smartphones, many people are wondering if a dedicated sat nav is worth the money. Protect Your Bubble says that has to be an individual decision, but there are a few things which can help guide that decision.
Dedicated units come with car-mounting hardware. Attach the mount to the windshield, if allowed, Dedicated sat nav's generally don't require a monthly subscription. Plug it in and go. It downloads directly from GPS satellites overhead.
Using a smartphone will also require a data connection, this can easily be lost if having to drive through out of the way country roads.
The prices on sat nav units are coming down. The Binatone F350 £49.99 is at the low end of the dedicated units. The price is driven by the fact this has a 3.5 inch display and may not have the features of the top end models. However, if getting from Point A to Point B is the task, this will do it.
The Navman EZY at £59.99 has the same 3.5 inch screen as the Binatone and adds a speed warning for that extra £10.
The Garmin corporation is a well established name in sat nav. The Nuvi 1200 offers options to maximize petrol use with the ecoROute function. It also allows a user to pinpoint services. It comes with safety camera locations and a speed warning. £69.99
If screen size is an issue, the RAC 5000 offers a 5-inch widescreen for £69.99. The expanded view shows more of the road to each side, which can be handy when driving in tight communities. Free safety camera updates for life are included.
One of the most famous sat navs is the TomTom. The Start 20 from around £85.30 is the TomTom's basic unit. Screen clarity and an easy interface are the hallmarks of this unit.
Breaking the hundred-pound barrier is three Navman Panoramic at £149.99. Easy on the eye is the main feature of this unit which has a seven-inch screen. This means easier-to-see roads and function buttons on the touch screen.
At from around £199.99, the TomTom GO Live 825 is the first sat nav in the list for people who drive a lot. The Live 825 gives the latest road and traffic information including traffic jams and speed cameras. This requires an annual subscription. It includes maps for all Europe.
Garmin responds to the GO Live 825 with the Garmin nuLink! 1695 LMU at £199.99. Much the same features as the TomTom, this unit comes with lifetime map updates. Annual subscription for live updates is required.
Protect your bubble provide insurance for Sat Navs with premiums starting from just £2.19 a month. With cover against breakdown, accidental damage and theft it should seriously considered with any Sat Nav purchase. For more information visit Protect Your bubble.
About Protect your bubble
Protect your bubble is an online gadget insurance provider, specialising in great value insurance cover for many gadgets including iPads, mobile phones, iPhones, Smartphones and cameras. They also offer a variety of other insurances including Travel, Pet, motor and home.
Get an instant quote for your gadgets via the following URLs:
Sat Nav Insurance uk.protectyourbubble.com/si-sat-nav-insurance.html
Mobile Phone Insurance: uk.protectyourbubble.com/gi-mobile-phone-insurance.html
iPad Insurance: uk.protectyourbubble.com/ipad-insurance.html
Socialise with Protect your bubble UK on the following social networks:
Facebook: facebook.com/ProtectYourBubble
Twitter: twitter.com/protectyrbubble
YouTube: youtube.com/protectyourbubble
All price were correct at time of publishing and are subject to change.