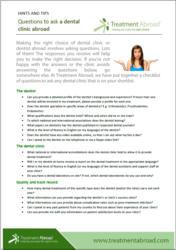 high quality dentistry can be found at prices up to 70% lower than in the UK
London (PRWEB UK) 20 December 2012
With the rising cost of private dental treatment in the UK, more and more people are seeking dental treatment in countries across Europe and further afield where high quality dentistry can be found at prices up to 70% lower than in the UK. But choosing the right dental clinic in a different country is not easy. That's where the new Treatment Abroad Hints and Tips Guide "Questions to ask a dental clinic abroad" comes in.
Making the right choice of dental clinic or dentist abroad involves asking questions--lots of them! The responses that patients receive help them to make the right choice. So, at Treatment Abroad, we have put together an extensive checklist of questions to ask any dental clinic that is under consideration. The responses the patient receives will help them to quickly narrow down their choice.
If patients are not happy with the answers or the clinic avoids answering the questions, then our advice is simple...go somewhere else!
About Treatment Abroad
The Treatment Abroad medical tourism web site is owned and managed by Intuition Communication, who also manage the Private Healthcare UK site, providing easy access for the public to information about private healthcare services and facilities across the UK.
All content on treatmentabroad.com is reviewed by an editorial team before publication. Information on healthcare services is drawn from authoritative sources to ensure that it is accurate and up to date. Treatment Abroad is a commercial site which is funded by advertising. However, all healthcare providers are entitled to a free listing in the appropriate directory of services.
The site's philosophy is "helping you make the right choice". By providing information that is relevant, comprehensive and up to date, we aim to help patients make the right choice of healthcare service or provider abroad.