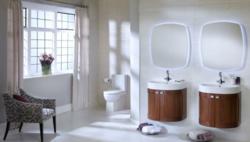 We have worked closely with retailers and consumers to create our best-ever Utopia range.
(PRWEB UK) 19 December 2012
The Utopia Bathroom Group have just unveiled a stand-out addition to their timber bathroom furniture as part of their New Year collection. Built around the existing Henley timber door style, the new curved timber units, as part of Utopia's Timber Modular Furniture, adds an air of luxury to any bathroom or en suite.
The Henley style is as timeless as it is elegant and desirable. It is the type of timber furniture that will stand the test of time, so you don't have to worry about refitting your bathroom in 5 years' time - the Timber range will always be in fashion.
The curved units are available as a singular, but two are available should you wish to have twin units, and the colour options include Golden Oak and Walnut. They form the perfect addition to the existing timber furniture at Utopia which is available in both Henley and Radley styles, and comes in a range of fitted, freestanding and modular options. Such bathroom furniture will make a real statement in any bathroom, and add sophistication wherever it's installed.
Pictured is Utopia's Curved Timber Furniture in walnut. The twin ceramic basins (also available in mineral cast) are ideal for couples. The mirrors, which are also part of the new range, have back lit LEDs, perfect for additional lighting, or mood setting.
Speaking about Utopia's new bathroom furniture as a whole, Chief Executive of Utopia Bathroom Group said, "We have worked closely with retailers and consumers to create our best-ever Utopia range. This mirrors our new innovative approach for 2013 and demonstrates our continued support to our retail partners, by providing them with the very best in stylish bathroom designs, which are demand-led."
For more information, brochures and stockists visit http://www.utopiagroup.com or call 01902 406402
###Ends###
About Utopia
Leaders in designing and manufacturing complete bathroom solutions, Utopia have been delivering more fitted bathrooms than any other UK manufacturer for the past 20 years. Through a network of over 600 selected retailers across the UK and Ireland, they supply the latest range of stylish and practical bathroom furniture and complete bathroom suites.