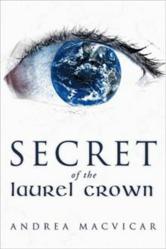 It was always the 'good guys' who win the day over the 'bad guys,' while the girls in the background were the romantic but weak 'damsels in distress. I wanted to write a book where the opposite proved true
Coral Springs, Fla. (PRWEB) December 20, 2012
What do Hermione Granger, Lara Croft and Carolyn from "Secret of the Laurel Crown" (published by WestBow Press) all have in common? They are all powerful lead female characters who fight evil and stand as an example to strong young women everywhere.
Former family counselor and pastor for more than 20 years Andrea MacVicar writes the fantasy adventure novel, "Secret of the Laurel Crown," demonstrating that young women can break free from stereotypes.
"It was always the 'good guys' who win the day over the 'bad guys,' while the girls in the background were the romantic but weak 'damsels in distress,'" MacVicar recalls about the adventure stories she read as a child. "I wanted to write a book where the opposite proved true."
Influenced by her childhood favorites – "Chronicles of Narnia," "Lord of the Rings" and "A Wrinkle in Time" – MacVicar has added elements of danger, right versus wrong, and love into her novel.
The story follows Carolyn and her older brother Jimmy as they are transported to the strange world of the Double Suns where things aren't as wonderful as they first appear. To save her brother and her new friends, Carolyn must unlock the secret of the Laurel Crown, and she discovers what is most important to her along the way.
"Carolyn the defeated becomes Carolyn the victorious when she learns from the Laurel Crown, love conquers all things," MacVicar says. "As pieces of a puzzle fit together, the elements of the story complete a beautiful picture of hope and sacrifice, love and restoration, mystery and reward."
For further information, visit http://www.andreamacvicar.org.
"Secret of the Laurel Crown"
By Andrea MacVicar
Hardcover | 6 x 9in | 208 pages | ISBN 9781449722920
Softcover | 6 x 9in | 208 pages | ISBN 9781449722913
E-Book | 208 pages | ISBN 9781449722906
Available at Amazon and Barnes & Noble
About the Author
Andrea MacVicar attended Wayne State University, University of Michigan and Marygrove College. She was licensed and ordained in 1984 through Kingsway Fellowship International, and earned her doctorate from Kingsway Christian College and Theological Seminary. She is a founding member of the American Association of Christian Counselors and was president of Rejoice Christian School of Ministry for two years. A pastor for more than 20 years now, MacVicar has also served as a family counselor, was publisher and editor of the Equipment Newsletter and authored "Tales of Zoftic."