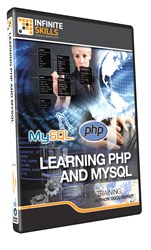 Learn PHP - MySQL At Your Own Speed
(PRWEB) December 21, 2012
Software training firm InfiniteSkills Inc. last week released its Learning PHP MySQL Tutorial DVD, a training course designed to teach beginning web developers how to build a website using the popular server-side scripting language.
PHP, or PHP Hypertext Preprocessor, is a scripting language designed to produce dynamic web pages. It is embedded directly into HTML as a source document, unlike other preprocessing languages which call external files to process data. PHP is an open source format, and along with MySQL, forms the basis of Wordpress, Joomla, Drupal and other content management systems.
InfiniteSkills' "Learning PHP MySQL Tutorial" teaches you all the tools and techniques for building a website using PHP and MySQL. The tutorial guides you through all the steps necessary for building all the essential elements such as a product database, user login, member areas, and a website search.
Learning PHP MySQL Video Training Video
Course author Doug Bierer has more than 14 years of experience in web development using PHP, Perl, Java and other programming languages. A contract developer since 1980, Bierer has developed websites for several Fortune 500 companies and small businesses. In addition to lecturing at the university level, he currently runs UnlikelySource.com and does contract work for Zend Technologies, the current home of the PHP language.
Bierer has the expertise both from his technical experience and his experience in training to assist both new and experienced web developers use PHP and MySQL. After exploring the basics of using PHP with HTML, Bierer explores fundamentals crucial to building a website such as arrays, looping and branching, using functions, working with object-oriented programming, external libraries, and several other important elements.
Each chapter concludes with a lab lesson in which Bierer explains how the particular concept of a chapter fits into the functionality of a website. "We will build a website in small pieces," Bierer says, "one piece at a time, and by the end of the course you'll have completed a comprehensive website."
Free demo videos and a full list of course contents can be found on the Learning PHP MySQL Tutorial DVD training page of the InfiniteSkills website:
http://www.infiniteskills.com/training/learning-php-mysql.html
InfiniteSkills offers its Learning PHP MySQL Tutorial Training Video either as a DVD or a direct download from the company website at a retail price of $99.95. All InfiniteSkills titles and formats are compatible with Mac and Windows operating systems. Shipping is available around the globe. Additionally, InfiniteSkills tutorials are supported by project files which correspond to examples in the videos, allowing users to work alongside experienced instructors right on their computer or iPad.
About InfiniteSkills Inc.
A leader in the field of software training, InfiniteSkills strives to offer the highest quality training available at an affordable cost. InfiniteSkills tutorials are task-oriented instructional videos, teaching complex skills by providing hands-on examples and guiding users as they carry out critical objectives. InfiniteSkills offers a comprehensive range of software titles available as DVDs, digital downloads, and in iPad editions, keeping with company aim of delivering professional training to customers anywhere they want to learn.