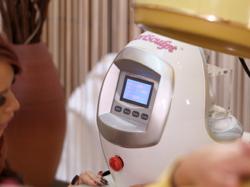 (PRWEB UK) 20 December 2012
Stephen Fry was given a makeover by former 'The Only Way is Essex' star Amy Childs as part of his new series Stephen Fry: Gadget Man on Channel 4. The episode, entitled 'Body Beautiful Gadgets' was shown on Tuesday 17th December and looked at how different technology can help to keep people fit, healthy and looking beautiful.
Amy Childs administered a number of innovative beauty treatments to Stephen Fry during his session including the non-surgical liposuction treatment CaviSculpt. They compared his waist measurements before and after the treatment. Stephen measured at 42 inches before the treatment; after his 30 minute CaviSculpt treatment his waist measured at 41.5 inches. Stephen Fry described these quick results as 'bizarre'.
The CaviSculpt device works to sculpt and contour the body. The device uses focused ultrasound waves to blast stubborn fat cells that exercise and diet alone struggle to reach. The fat molecules are then broken down to a liquid form which is then naturally passed through the body. Paul Healey, Director of Ultim8 Fitness said: "The treatment can be administered once or twice a week for around 6 to 8 weeks on one area of the body such as tummy, thighs or upper arms. CaviSculpt is great for treating cellulite as it also tightens the skin eliminating the orange peel effect." This form of treatment is completely safe and pain free and can be used by both men and women.
CaviSculpt has been brought to the UK by Ultim8 Fitness Ltd. The company has been in the fitness and beauty industry for 12 years. Ultim8 Fitness brands include industry leaders Hire Fitness, CaviSculpt, Ultim8 Fitness and Ultim8 Vibration-Plates.