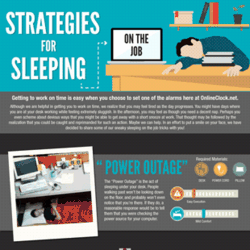 It's high time that people are made aware of the numerous methods that can be utilized to get the proper amount of rest at work.
(PRWEB) December 31, 2012
OnlineClock.net, the world's first online alarm clock, has embarked on a campaign that is designed to help workers everywhere get more sleep by sleeping at work. Evidently, most workers don't realize that they can catch up on all the sleep they've lost over the weekend by simply taking a nap at their desks. Tom Churm, the site's owner said, "It's high time that people are made aware of the numerous methods that can be utilized to get the proper amount of rest at work."
The site's new strategies allow followers to dutifully maintain their health by sleeping at work, and the methods for accomplishing this are featured on the website's blog. The followers of OnlineClock.net are sharing this information with their friends and family. There is also a video outlining the ingenious strategies for sleeping on the job.
Sleep has long been examined by many professionals and the question of whether or not people are getting the right amount of sleep remains a topic of discussion. That is why OnlineClock.net believes that the efforts promoted by their new campaign are humanitarian. They maintain that sleeping on the job will improve the human condition.
Followers of OnlineClock.net have begun scheming to create additional ideas on how to sneak in a nap during working hours. They have been inspired by the strategies presented by OnlineClock.net. Representatives of the website believe that these strategies will continue to spread, since it has already reached thousands of workers and the incessant sharing hasn't slowed down. The site's visitors particularly enjoyed the playful method of cutting out pictures of eyes from magazines and pasting them to their eyelids to artfully disguise the fact that they were napping. Supervisors and employers may not like the idea of people sleeping on the job, but they will appreciate their employees maintaining their health. The people at OnlineClock.net believe this is a win-win situation.
Another one of the extremely helpful ideas discussed on the blog is to feign the love of reading. When using a procedural manual, supervisors can be convinced that employees are studying ways to improve their performance. This presents the appearance of the employee having a keen interest in their job. When both elbows are placed on a desk, while simultaneously holding a company's book of procedures, workers can sleep leisurely while appearing to be reading. There is a general consensus among the visitors of the website that the reading while working method is not a total sham. They believe that some words are actually being read before they doze off, so it's not a bad thing.
The overall health of workers around the globe may be improved by getting people to sleep more; however, the website must be studied in great detail to procure the proper strategies for effective workplace napping methods. There is a new video that addresses the problem of how to sleep at work, and provides visitors with detailed instructions on how to lie down on the job. After focused concentration, workers will be able to successfully implement the site's nap cloaking science.
OnlineClock.net helps readers gain access to innovative clocks, and provides them with the opportunity to study what they call "nap cloaking science." They hope that their humorous blog will help people to rethink the way that they prioritize sleep in their lives, and to seriously consider the health benefits of getting an adequate amount of rest each day.
About OnlineClock
Online since March 24th, 2006, the Online Alarm Clock was the world's first online alarm clock website. Online Clock strives to be the number one network for the simplest, most useful and best Online Clocks, Timers and Time Tools. For more information on the various online alarm clocks offered for free by OnlineClock, please visit http://onlineclock.net/about/.