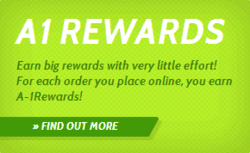 Atlanta, GA (PRWEB) December 20, 2012
A-1 Express, a recognized leader in same-day courier and transportation services, announces their A-1 Rewards Referral Program. The program is offered to increase their referral volume and courier service frequency by their current account holders. It also will market incentives to their clients, generating a higher level of customer care experience. A-1 Express strives to be the best choice for same-day delivery courier solutions nationwide.
A-1 Express has an advertisement on the home page of their website entitled "A-1 Rewards". Customers can click on the advertisement to find out more about the program. Account holders will earn 1,000 reward points for every new business referred to A-1 Express. For every 1,000 points, their clients will earn a $25 VIP Gift Card. The VIP Gift Card is redeemable at VipGift.com for original gift certificates to hundreds of restaurants, stores, airlines, theaters, and more. The new account holders must accumulate 1,000 points themselves in order for the referral points to be issued.
The nationwide courier currently has a reward points program in addition to their referral program. Account holders receive one point per dollar spent for their online orders. Once they accumulate 1,000 points, their clients earn a $25 VIP Gift Card. The referral program is being coupled with the rewards points program, resulting is a variety of incentives customers want. The company also continuously brands itself as a professional courier within their industry and implements strategies that are aligned with current business trends.
A-1 Express is a courier of same-day distribution and transportation services throughout the US. From small packages to palletized freight, A-1 Express delivers on-time and fast. With over 1,500 clients, including Fortune 500 Companies nationwide, A-1 Express continues to grow and exceed service expectations. From their headquarters in Atlanta, Georgia, the company offers quality customer service, a professional driver staff, and leading courier technology to achieve the highest level of same-day delivery solutions.