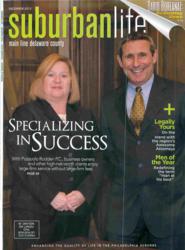 (PRWEB) December 21, 2012
Pozzuolo Rodden, PC, Philadelphia Business- Estate Planning Attorneys are pleased to announce that three of its attorneys have been named Region's Awesome Attorneys by Suburban Life Magazine in its December 2012 edition. Joseph R. Pozzuolo was selected in two categories: Business Planning and Estate Planning. Judith P. Rodden was selected in two categories: Commercial Litigation and Employment Law; and Lesley M. Ibanez was selected in two categories: Commercial Litigation and Family Law.
The Law Firm of Pozzuolo Rodden P.C., announces the release of the article "Specializing in Success " If you would like to read more, please read the full article and other corporate law, or estate planning topics at http://www.pozzuolo.com/Pubs_Newsletters.shtml
Specializing in Success
Closely held business owners are required to make many decisions in order to operate, protect and grow their companies. While they may be proficient in many areas, navigating the legal complexities and hurdles of owning and managing a business can be an added challenge. Pozzuolo Rodden P.C., a boutique law firm with offices in Center City and Cherry Hill, N.J., specializes in serving such clients.
"We provide daily, weekly or monthly business and estate-planning legal services to the privately held business owner or high-net-worth clients and their families," says Joseph Pozzuolo, who established the firm in 1975 after earning a his Bachelor's degree in accounting and a law degree from Temple University School of Law. He was later joined by partner Judith P. Rodden, a graduate of the Temple University Beasley School of Law. The firm has attorneys on staff with advanced degrees making it highly capable of assisting clients with a variety of needs: banking, business transactions including formation, sale, purchase or merger and real-estate transactions as well as complex legal issues such as commercial litigation, employment law and family litigation.
"By practicing in a boutique environment we are able to control our costs and overhead," Pozzuolo says. "Our firm is better able to address the client's needs than other firms in that clients are not afraid to call our office in any of the areas we practice for fear of receiving an exorbitant bill in the mail at the end of the month." These specialized, sophisticated services, he believes, would otherwise be available only from a large firm at significantly higher rates.
The firm's philosophy of effectively and economically representing these clients has forged long-term relationships with them, some of whom it has represented for longer than 30 years. These clients appreciate the personalized service and attention to detail the firm provides for their businesses and families.
"By practicing in the same areas of the law for in excess of 35 years, our firm can address the normal but specialized needs," says Pozzuolo. "It is for this very reason that many of our clients are long term." In fact, the firm's ideal client is one with sales ranging from $1 million to $500 million who the firm can represent for at least 25 years.
"Over the years we have had many clients come to us with the idea of starting or purchasing a business," he says. "We are with the client every step of the way from purchasing or starting a business, bank financing, growth and employment-related issues, to an eventual sale of the business and then start the entire process over again. In other words, we have worked with clients who may have seen their net worth increase from $100,000 to $200 million over a finite period of time and were with the client every step of the way over the years. …We are now providing service to the second generation managing the family business."
Closest Confident
"We have been using Pozzuolo Rodden for over 25 years," says Dave Potack of Accommodation Mollen Inc., a distributor of cleaning and safety supplies and equipment located in Philadelphia. "Joe's personal attention to every aspect of our operations, along with his excellent staff, has consistently come through for us over the years. Joe's past experience as a CPA also comes in handy navigating us through some difficult times."
Joe Volpe of Cescaphe Event Group has also found Pozzuolo Rodden's diversity invaluable. "There isn't anything you bring to them that they cannot handle," he says. "From estate planning to real estate, they look at the whole person and are there to solve problems and assist however they can. It is amazing how effective they have been."
Volpe considers Pozzuolo Rodden to be a trusted advisor referring to it as a "business owner's right hand." He notes that the firm is responsive to his needs, going above and beyond to assist him. "Any question, any time of day, the firm is fabulous."........
If you would like to read more, please read the full article " Specializing in Success" and other corporate law or estate planning topics at http://www.pozzuolo.com/Pubs_Newsletters.shtml
Pozzuolo Rodden, P.C. provides specialized cost-effective legal services to privately held business owners and high-net-worth clients in Pennsylvania and New Jersey in excess of 35 years.
Practice Areas:
Business planning and transaction, complex business litigation, commercial real estate and development, construction law and litigation, advanced estate planning and administration, tax and pension law, high profile and intricate family litigation, and employment law and litigation.
Pozzuolo Rodden, P.C.
Counselors at Law
2033 Walnut Street
Philadelphia, PA 19103
215-977-8200
http://www.pozzuolo.com