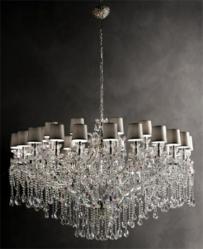 Exclusive new series by Masiero Luxury now available on Interior-Deluxe.com
Tarpon Springs (PRWEB) December 19, 2012
Décor opulence is often a signature of the home owner's personal style. Keeping this abiding theme in mind, Interior Deluxe, one of the most successful luxury light supplier, has unveiled a set of three sterling limited edition light fixture collections from Masiero Luxury. Styled with Italian graces, the 3 lights- Black Grace, Aqaba and Crystalry- transform your living space into the heart of grandeur. Some of these are set in Venetian fashion, some have embellished semi precious stones, and almost all are adorned with Swarovski crystals. Interior Deluxe has combined their world class customer services and secure shipment with modern light fixtures which are truly a class apart. These lights are here to magnify the natural elegance of a high end home and are definitely the biggest lighting items to look forward to.
Masiero Luxury is an Italian brand, and features stunning lamps, wall scones, chandeliers, and floor lights. In the Interio Luxury collection, Masiero Luxury has displayed 3 exclusive lights. The Black Grace, a wall scone, is modeled from silver and brass and inlaid with Venetian Lagoon crafted Swarovski rhinestones. In its craftsmanship, glossy black finish porcelain finish and zirconium frame, the Black grace is a complete addition to any home. The Aqaba wall scones are blends of silk and silver.
Silver chains and leaves hold lights reflected by Swarovski stones. The Aqaba scones reflect luxury in every shaft of light and are ideal additions to stately homes. The Crystalry is a breathtaking combination of metal and crystal. Golden plafonds are overlaid with double crystal Swarovski. The scone is given different finishes in silk and ivory and is specially designed as a decorative light. Murano blown glass imparts its beautiful silhouette. Wall scones from Masiero Luxury are all set to brighten up homes with their splendor.
The fact that this light label is being offered by Interior Deluxe is reassuring since customers stand to get uncompromising after sales and customer support from the company, right from placing the order, to delivery. Gregory from California was all praises for the collection and flawless customer service and expressed his views, "Interior-Deluxe has absolutely excellent selection of luxury lighting fixtures, competitive prices, and prompt customer service for both technical support and order support. I love their products and highly recommend them." His views are a part of an increasing community of customers who rely on the company for luxury light needs.
John from Chicago was enthusiastic about the scones he had just purchased and said," I am extremely happy with my new sconces, and they look stunning." The reason for such popularity is now known. They have on-panel electricians who help customers install their lights via telephone and also offer free shipment of products above $500.
Interior Deluxe is a web store that has the entire home lighting solution. They specialize in interior and exterior lights, wall scones, chandeliers, floor lamps, outdoors light and all types of lights for the bedroom, kitchen, living room, bathroom and front lawns.