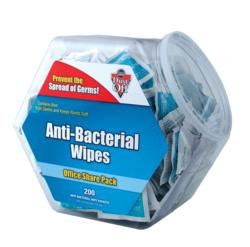 Branchburg, NJ (PRWEB) December 19, 2012
Dust-Off®, the leading brand of consumer electronic cleaning products, is helping consumers stay healthy this flu season by offering a variety of antibacterial and disinfecting wipes and surface cleaners. From family get-togethers, to office holiday parties and outings, this is the time of year when everyone is constantly surrounded by other people, and the cold and flu germs they are carrying with them.
Offices are one of the most bacteria-filled places. There are 21,000 germs per square inch on a mouse, keyboard, and chair, and a typical desk has up to 10 million bacteria on it which is 100 times more germs than the average kitchen table. Traveling by plane this Holiday season? Airline travelers are 20% more likely to catch the common cold this winter. With all the germs and bacteria consumers are constantly surrounded by, it is important to make sure to take the utmost precautions to stay clean and prevent illness.
Dust Off® is helping with that effort by offering consumers plenty of on-the-go, at home, or in the office options to keep clean and stay healthy.
•Disinfecting Office Surface Wipes- These wipes are a convenient and quick way to disinfect surfaces around the home and office. Dust-Off's surface wipes kill 99.9% of common germs and are easy to use on all types of surfaces including phones and desk tops.
•Disinfecting Office Surface Wipes-Share Pack- Dust-Off's wipes clean, deodorizes and disinfects against powerful germs including H1N1. They are ideal for use on surfaces like keyboards and mice, door handles, telephones, copiers, scanners and desktops. They are bulk packed for placement on receptionist desks or common work areas for all employees to use. The individually sealed wipe packets help extended product life.
•Antibacterial Wipes- Office Share Pack- Get rid of dirt and germs quickly and conveniently. Containing aloe, these wipes leave skin feeling fresh and soft without drying it out. They are the ideal solution to cleaning up at while at work or on-the-go to help prevent the spread of germs. Use any time to clean and refresh when soap and water are not available.
All of Dust-Off's antibacterial and disinfecting products are currently available and can be purchased at http://www.dust-off.com/shop/category/wet-wipes.
About Dust-Off®
Manufactured by Falcon Safety Products Inc., a world leader in compressed-gas technology, Dust-Off offers the most comprehensive line of dust removing and preventive maintenance products for consumer electronics and home or office equipment. Dust-Off compressed-gas dusters are one of the most versatile cleaning accessories available to consumers today and have long been a staple for the care and maintenance of computers and other electronic equipment. For additional information, please visit http://www.Dust-Off.com or follow on Facebook at http://www.Facebook.com/KeepitDustOff.