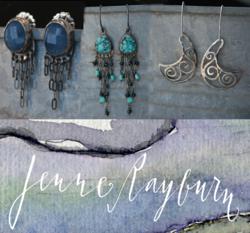 Handcrafted jewelry for the modern woman.
Boston, MA (PRWEB) December 19, 2012
Jenne Rayburn is thrilled to announce her acceptance into the Metalworkers Guild at the Lexington Arts and Crafts Society, Lexington, Massachusetts. Membership in the Guild is by a jury process, and is for the lifetime of the juried member. The Lexington Arts and Crafts Society's unique community, facility and resources enable local artists to practice their craft, learn new skills and sell their creations at the Society's art gallery, which offers for sale original art and handmade crafts by local member artisans. "I hope that my membership with the Lexington Arts and Crafts Society Metalworkers Guild will be a catalyst for new creative directions in my enamel jewelry, and enable me to focus on larger scale explorations and technical innovations in my work," said Rayburn, from her studio in Malden, MA. "I am thrilled to find a home with this robust arts and crafts community and become a new resident their studio."
The Lexington Arts and Crafts Society is an organization of juried fine craft artists from throughout Massachusetts. Members of the Metalworkers Guild are an active community of life-long craftspeople. Arts and crafts guilds date to the Arts and Crafts Movement, which was led by the British artist and writer William Morris. Medieval Guilds, where membership ensured that anything made by a guild member was of high standard and was sold for a fair price, provided a formal model for the ideal handcraft production association. Membership in a guild was an honor and a sign that you were a respected and skilled craftsperson.
A crusade to change both art and society, the Arts and Crafts movement challenged the tastes of the Victorian era, was inspired by the social reform concerns of contemporary thinkers and linked the idea of good design to the theories of a good society. Flourishing originally in Britain from 1860 to 1910, and later spreading to Europe and the United States with continued influence until the 1930s, the Arts and Crafts movement stood for traditional craftsmanship, simplicity of form, and democratic access to quality products that support equitable working conditions. Arts and Crafts principles were promoted through American journal and newspapers and were supported by new societies that sponsored lectures, exhibitions and educational workshops.
The Arts and Crafts movement in the United States was multicentered and diverse. Societies formed nationwide and reflected regional differences resulting from a variety of individuals working in distinct locations with unique cultural characteristics. The establishment of Arts and Crafts Societies in the United States originated in Boston after the success of the first American Arts and Crafts Exhibition on April 5, 1897, at Copley Hall. Organized with support from the Boston Museum of Fine Arts, more than 1000 contemporary craft objects made by 160 craftsmen, half of whom were women, were on exhibit. The Boston Society of Arts and Crafts was incorporated in June 1897 to support and promote technical expertise and artistic work in all branches of handicraft, to recognize and applaud function as a basis for form and design, and to celebrate individual craftsmanship over products of mass production. The philosophies of the British Arts and Crafts movement also found a sympathetic audience in Chicago. Chicago's Arts and Crafts Society was incorporated in October 1897, and began at Hull House, one of the first American settlement houses for social reform. Numerous societies followed in cities from Minneapolis to New York, as well as in rural towns, later including Lexington, Massachusetts.
The Lexington Arts and Crafts Society was founded in 1935 as a non-profit regional education center dedicated to the preservation and promotion of excellence in both traditional and contemporary arts and crafts. With the objective to encourage higher artistic standards, the Society continually invites original local and emerging artists to be members to ensure that traditional crafts endure, are valued and are available to the public. "The work on display at the LACS is simple and elegant, made from primarily sterling silver and semi-precious gemstones," notes Rayburn. "My designs are rooted in traditional metalsmithing techniques, yet interpreted with a modern esthetic that celebrates materials with minimal embellishment. I hope my work is seen as timeless, and as statement jewelry that can be dressed up or down and always make the wearer look and feel fabulous."
With nearly 400 members, in nine guilds, the Lexington Arts and Crafts Society has provided a place artists can gather, work, inspire one another and keep craft traditions alive for over 77 years.
The Lexington Arts and Crafts Society houses a gallery to showcase the works of the artists of the Society. For more information go to:
The Lexington Arts and Crafts Society
130 Waltham Street Lexington MA 02421
Phone: (781) 862-9696
http://www.lacsma.org
Visit Jenne Rayburn's collections http://www.jennerayburn.com
Visit Jenne Rayburn on Facebook http://www.facebook.com/Jenne.Rayburn
About:
Jenne Rayburn is a Boston-based jewelry/textile artist who also studied interior design and architecture, and her work explores the convergence of architecture, design, technique and identity. Jenne is known for her work that combines vintage textiles, findings and components, with contemporary jewelry and accessory designs. A graduate of the University of Washington where she studied metalsmithing and fiber arts, and of the University of Massachusetts, Amherst with a MS in Design, Jenne has been designing jewelry and accessories for over 20 years. Perpetual curiosity and a passion for experimentation resulted in her first jewelry collection made from etched copper and brilliantly colored enamel. Since then, Jenne has created six unique collections of jewelry and fashion accessories that combine careful workmanship with unique materials and designs. It is her hope that the wearers of her pieces will find joy in a delightful artistic statement, and also something that enhances their individuality and confidence. Her work is carried in local galleries and online. Please visit http://www.jennerayburn.com for Jenne Rayburn's online flagship store. For wholesale information, please visit jennerayburn.com/wholesale.com
###