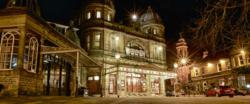 Buxton is a very popular spa town with a long lovely history
Peak District, UK (PRWEB UK) 20 December 2012
Peak District Online spill the beans in their brand-new pages launched today, adding to an already impressive section about Buxton.
Boasting about Buxton, http://www.peakdistrictonline.co.uk has just uncovered the secrets of a spa town built with money made from mines. Without the Duke of Devonshire, adding his own input and investment long ago, it's thought Buxton would be nothing more than a small village but thankfully his insight all those years back has created a town which is bustling and thriving to this day, despite suffering the recession.
The new pages dedicated to Buxton highlight the vibrant community atmosphere that makes this place so endearing. The team at the family run peakapedia website are very proud that their Peak District Villages section has just got bigger, as Buxton is added to the already astounding list of places to go and people to see, for visitors to the area.
"Buxton is a very popular spa town with a long lovely history," explains Steve Wake, one of the directors of Peak District Online." It's a place which mixes both the old and the new. The architecture and old buildings have their own tales to tell, and have lasted all these years still look like they were only built yesterday. The myriad of streets are home to a modern-day shopping experience, but wandering around the nooks and crannies of this gorgeous place, it's easy to be transported back in time and imagine what life was like back then."
The close knit team at Peak District Online have made it their mission to uncover past and present information on all the villages in the National Park, although Buxton is incredulously left out of this status.
"We would certainly disagree that Buxton is definitely an area of outstanding natural beauty," explains James Dobson, fellow director for Peak District Online. "The spectacular Pavilion Gardens, the Opera house and the Crescent are just a few of the attractions which make up a very beautiful town in this part of the world." He goes on to say," there is plenty of time to sit and contemplate your journey, whether it be back into the town to sample the delights of the diverse and different shops, or to wander lonely as a cloud, through the stunning parks and gardens"
With up-to-date news and articles about the area, the brand-new pages dedicated to Buxton, feature stories, myths and legends, but as well as highlighting the history of the place, they mingle lots of facts about the present with people of the past. With a website attracting over 200,000 unique visitors each month, the UK's largest Peak District guide for accommodation in the area, prides itself in providing visitors to Derbyshire with anything they need to know during their stay.
With more pages added on a daily basis, the website is already full to bursting with features attracting their visitors, but the team say they have nowhere near reached their' peak' yet.
"We have a wonderful team of researchers and writers and they are so enthusiastic about the area they work and live in. We have a list of subjects, places, and attractions which we have only scratched the surface of, and it's our aim for the not too distant future, to add them to our website," explains James Dobson, fellow director at PDO. "We are currently completing a sister website called Buxton Online, which also goes into more depth about this glorious part of the country."
"Our unique visitor numbers are growing every month," says Steve. "It's our Peak District cottages page is our most popular at the moment, but the villages section is catching it up quite nicely."
The new pages all about Buxton and dedicated to the newest Peak District village, have gone live and are ready to view at http://www.peakdistrictonline.co.uk