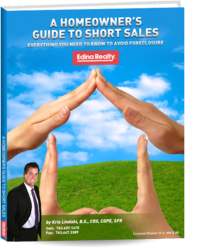 The Met Life short sale process is one I've dealt with often in the past year and have clients going through right now
Blaine, MN (PRWEB) December 19, 2012
"The Met Life short sale process is one I've dealt with often in the past year and have clients going through right now so I thought it would be of great benefit to the community if I offered an open ended seminar on the Met Life process,"Kris Lindahl said of the meeting held last night in Blaine, Minnesota and continued,"I was happy with the turnout and was glad to help those people in need."
"The Met Life short sale process is a simple one,"Kris Lindahl said at the seminar,"First you'll need to find an experienced agent and market the home to a buyer. Once you've found a buyer you and your agent will need to write up a purchase agreement. You'll also need to send the the lender, Met Life, the purchase agreement, a hardship letter, pay stubs, taxes, W-2s, and any other documents they request."
"From there your agent and the negotiator at Met Life will agree on a price to sell the home and write up a short sale approval letter,"Kris Lindahl explains. The Met Life seminar is part of a new campaign that Kris Lindahl and the Kris Lindahl Team are launching to meet the demands of people needing information on different lenders and banks.
"We want to cover as many different banks and lenders as we can," Kris Lindahl said, and continued,"And we'd like to extend these meetings all around the Twin Cities area and further."
The Kris Lindahl Team consists of several hard working, full-time Edina Realty realtors that hold the following designations: Certified Distressed Property Experts, Short Sale & Foreclosure Resources, and Council of Residential Specialists.
Call Kris Lindahl and the Kris Lindahl team for more information at (763) 607-1415. Visit the Minnesota Short Sale Calculator website to check eligibility and the Kris Lindahl real estate website. Download the complimentary eBook titled "A Homeowner's Guide To Short Sales."