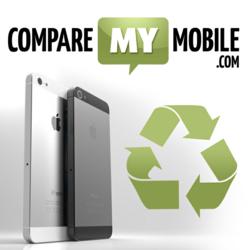 Data collected from over 2 million consumers shows the world of gadget recycling in 2012
(PRWEB UK) 20 December 2012
CompareMyMobile.com, the United Kingdom's leading online provider of mobile recycling comparison, announced today the top recycling companies of 2012 in the mobile device space as well as the most frequently recycled devices during the same period.
CompareMyMobile.com prides themselves on providing cutting-edge comparison services in the United Kingdom mobile space and are responsible for initiating deals that have paid out over £40 million through PayPal, bank transfer and cheque to satisfied consumers.
The top 5 recycled manufacturers of 2012
1. Apple - (49% )
2. Samsung – (18.5%)
3. BlackBerry - (12% )
4. Nokia - (8% )
5. HTC - (5% )
The top 5 recycled devices of 2012
1. Apple iPhone 4 16GB - (17%)
2. Apple iPhone 3GS 16GB - (7%)
3. BlackBerry 8520 - (6% )
4. Samsung Galaxy S - (5%)
5. Samsung Galaxy S2 - (3%)
The top 5 recycled categories of 2012
1. Mobile Phones
2. iPads
3. iPods
4. Other Tablets e.g. Kindle
5. Laptops
The top 5 consumer rated stores of 2012
1. Money4Machines – gadget recycler
2. Mazuma Mobile - mobile recycler
3. Envirofone - mobile recycler
4. Mobile Phone Xchange - mobile recycler
5. Cash in your gadgets – gadget recycler
For extended data or for this story to be covered in more detail with graphs and infographics contact ashley(at)comparemymobile(dot)com.
Accredited by the press, CompareMyMobile contains recycling quotations from up to forty different recycling companies to ensure that potential consumers get the very best financial return for their unwanted gadgets based on the top-end of current market valuations. Out of those forty potential service providers Money4Machines, Mazuma Mobile and Envirofone were the three chosen most often by customers to provide their recycling services.
When choosing a recycling company customers generally have a number of variables to consider, all of which are presented front and center by CompareMyMobile.com. First and foremost the valuation of the device needs to be taken into account, followed closely by the reputation of the company and any reviews that have been left by previous customers. CompareMyMobile.com closely monitors reviews and customer feedback to ensure that all featured companies are performing to strict satisfaction criteria to ensure a positive customer experience. Over the course of 2012 it is evident that the three aforementioned companies had the perfect balance of customer satisfaction and device valuation.
Statistics also show that over the course of the year customers have traded in a wide variety of smartphones with Apple, Samsung and Blackberry handsets being the most popular through the doors. The iPhone 3GS, iPhone 4 and iPhone 4S have been three of the most frequently recycled devices during 2012, possibly in preparation for upgrading to the latest iPhone 5 model that was launched in September 2012.
Recycling companies also witnessed a spike in the number of Samsung smartphones traded in during the same period. The Galaxy S i9000 and S2 i9100 passed through recycling on a large scale, partly due to the release of the current flagship S3 device but also as a result of the Apple Vs. Samsung patent litigation trial that saw trade-ins rise due to the verdict passed down against Samsung Electronics.
The 2012 recycling statistics would also suggest that struggling Research In Motion have continued to struggle throughout the course of the year. Consumers have been quick to cash in on their Torch 9800, Curve 9300, Bold 9700, Bold 9780 and Curve 8520 models possibly due to market conditions at the time of valuation but also possibly jumping ship to move to a different manufacturer.
About CompareMyMobile
Founded in 2009, CompareMyMobile.com is the UK's #1 source for independent mobile phone, tablet, sat nav, laptop, iPad, iPod and games console recycling price comparison. It delivers customers confidence in making the difficult decision of where to recycle their old phone safely and for the most money. Compare My Mobile is 100% impartial, comparing prices from more than 40 recycling stores.
Media Contacts
Andrew Beckett
CompareMyMobile.com,
Tel: +44 (0) 7810 882 278
Email: andrew(at)comparemymobile(dot)com