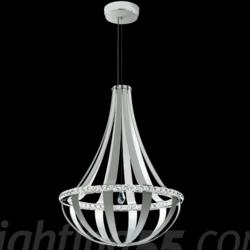 Tarpon Springs (PRWEB) December 21, 2012
Luxury lighting is incomplete without Swarovski lights. Lighting55 understands flawless fashion and has hence introduced lights from Swarovski lighting from Austria to their online store. Swarovski lights are carved in crystal and boast of the finest metal frames and finish. Lighting55.com has genuine Swarovski light pieces from the Austrian company and there are wall scones, chandeliers, recessed lights, and suspension and ceiling light statements. These decorative and modern lights are grand additions for homes and commercial spaces, and come with Swarovski's assurance of classic craftsmanship and the promise of end to end services of Lighting55 itself. Swarovski also creates designer LED light equipment.
Lighting55 is known for offering customers with the finest light brands and models, and it is no wonder that it has made Swarovski available for lavish modern homes. The lights are contemporary in design and exceptional in appearance. For instance, icicle lights from the brand reflect sparkly rainbows and appear as glittering sprays of ice when illuminated with a single polar light. There are surface mounted pendant lights in stainless steel finish that use up to 4 lights. These are perfect for banquets, restaurants, and ballrooms. The finest of Contemporary chandeliers, Swarovski architectural lights sparkle with the brilliance of finely cut and polished glass crystals and are famous as centerpiece lighting. These chandeliers have two finish options – in opal grey and earth black, and they reflect contemporary minimalistic lighting fashion.
Customers who have bought Swarovski lights from Lighting55 are completely satisfied with the company's sales and customer support services. What enhances their brand appeal is that they are an AAA registered company with the Best Business Bureau, and have skilled electric technicians on their staff panel who provide tele-assistance to customers for the installation of their fixtures. Barry from New York was impressed with the company's promptness with the delivery and expressed his amazement, "This is great. They were completely honest about their delivery time for a very hard-to-find piece that just had to be arranged overseas." Many overseas customers too have expressed similar responses, which show the growing popularity of the web store among luxury light users. Architects, interior decorators, and designers have praised these lights and they prefer getting these installed for their clients.
Maryanne, an interior decorator from Melbourne expressed her views, "Immediate replies to my questions, great and excellent communication, timely delivery, and competitive prices- Lighitng55 is certainly my first resource when purchasing light fittings for my Australian clients." Like Maryanne, others who have bought from Lighting55 have returned to them time after time to secure quality European light styles for their homes.
Lighting55 is a major modern lighting supplier with offices in USA and Australia. Their web store is the ultimate destination for all home lighting needs and features best quality lights suitable for plush, stately homes everywhere. They offer free international shipping for lights above $500 and provide complete customer services for installation, repair, replacement, and timely delivery.