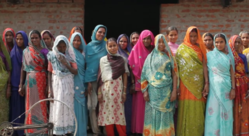 "Growing up in northern India, I saw the desperate need that still exists in so many communities for the healthy food and educational opportunities that can so easily be taken for granted." ~Satya Tiwari.
Emporia, KS (PRWEB) December 21, 2012
The name of Surya has been gracing the lips of decorating professionals and décor retailers more and more in the past few years. Since 2004, when the founder of Surya Rugs, Surya Tiwari, appointed his son, Satya, to President of the US division of his business, the company has grown in leaps and bounds, experiencing a yearly double-digit growth. Last year they grew from $35 Million to $55 Million. Though very successful now, Surya came from humble beginnings in India and sticks to its traditions of meticulously crafted, handmade rugs.
Surya employs thousands of individuals who go through the complex process of creating these treasures. They start with the designs for these ornate rugs and begin cleaning, and separating the wool to be given to the spinners. The spinners spin with the most advanced technology available to the factory: old bicycle gears. Then, the wool goes to the experts that make these rugs who spend years developing their skills of hand tufting and knotting. One small mistake can mar months and sometimes years of work. But, spending much of their lives learning and practicing this trade, these artists make few mistakes. The entire process is highlighted in a short video the company created called The Art and Passion of Surya Rugs. On an average day there are over 10,000 rugs being created that will be sold all over the world. Though the Surya people may never travel far, their product sends a personal message: quality matters most.
Satya believes in that message and has been spreading it to the United States though his business practices. He has been making headlines for his professional prowess as well. He was named 6th place in Business to Business's Top 25 Entrepreneurs this year, a climb from 17th place in 2011. He also placed in Atlanta Business Chronicle's 2012 40 Under 40, which honors successful young professionals. Surya Tiwari, Satya's father and company founder remarked, "Satya has been instrumental in setting the vision for Surya's growth and I am proud to see his efforts being recognized."
One of the requirements for Atlanta Business Chronicle's award is a devotion to community service, which Satya has demonstrated through the $29,000 that his Miles for Meals fundraiser earned this year for impoverished youth in rural India. Surya, as a company, donated $250,000 to the same organization in 2012. That money went to the Akshaya Patra program which is the largest NGO meal program in the world. They serve fresh, nutritious meals to 1.3 million youths every day and give great incentive for parents to keep their kids in school. Satya Tiwari with a group of Surya employees, friends and family raised the $29,000 through a local half-marathon race in Atlanta. They raised enough to feed 1,941 children next year.
Donating to Akshaya Patra is one of the many ways that Satya and Surya are giving back to the people of India. "Growing up in northern India, I saw the desperate need that still exists in so many communities for the healthy food and educational opportunities that can so easily be taken for granted," says Satya Tiwari. PlushRugs.com is a supporter of Surya's endeavors and works to promote their people as well as their products. Plush Rugs is currently offering up to 25% off with a Surya Sale that will continue into 2013. Surya's growth and Satya Tiwari's accomplishments do not only benefit the bottom line of small businesses like PlushRugs, but they also give opportunities to people in India, help support the less fortunate and ultimately make you feel good about your purchase and your choice to support Surya's growing positive impact in the world.