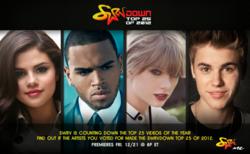 New York, NY (PRWEB) December 19, 2012
SWRV®—the first and only 24/7 interactive music video network from Music Choice- is counting down the Top 25 music videos of 2012 with a special edition of its popular SWRVdown show.
The SWRVdown Top 25 of 2012 premiers on Friday, December 21, 2012 at 8pm and features the hottest videos of 2012 as decided by SWRV viewers. The online poll was conducted earlier this month on swrv.tv and the results will air in this 2 hour show that will be repeated throughout the weekend.
To coincide with the weekend, SWRV will be giving away a SWRV Top 25 prize pack on its Twitter page. Prizing includes signed items from Justin Bieber, Ellie Goulding, Rita Ora and P!nk. Consumers can enter to win by following @SWRV on Twitter and tweeting @SWRV with the hashtag ##SWRVTop25
SWRV….Don't Just Watch!
SWRV is currently available throughout the US via several providers including RCN, Cox Communications, Verizon FiOS, and AT& T U-verse. SWRV will continue to roll out to millions of homes nationwide through tiered roll-outs by multiple providers. For more information on SWRV log on to http://www.swrv.tv or to become part of the SWRV community join us on Twitter: @SWRV or Facebook: http://www.facebook.com/swrv.tv
###