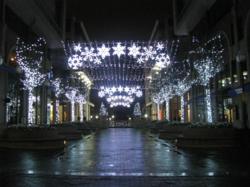 "This new outdoor display of illumination preserves the historic charm of Georgetown while creating a festive atmosphere which complements its legendary shops and restaurants," said Michael DeZaio, President of Center Stage Productions.
Fair Lawn, NJ (PRWEB) December 20, 2012
Georgetown's Business Improvement District (BID) and Washington Harbour, both in Washington DC, are sparkling bright for the holidays with custom designed outdoor festival lighting by Center Stage Productions, the nation's leading commercial holiday decor producer.
As the US representative for Blachere Illuminations, the finest resource in the festival lighting industry worldwide, Center Stage Productions created the entire project exclusively with Blachere's brilliant energy-efficient LED lights. "By using these LEDs, energy consumption is 10 times lower than incandescent bulbs for identical light brightness, making it an environmentally responsible yet visually spectacular choice," said Michael DeZaio, president of Center Stage Productions.
The new centerpiece of the Georgetown BID is a dramatic overhead display of electrified sparkle including a nine-foot diameter starburst set within four 30-foot long star streams spanning the intersection of M Street and Wisconsin Avenue. Also new this year are 145 ornamental trees, which use natural greenery and decorative gold metal to symmetrically encircle the lampposts along the streets of the BID. In addition, the BID features a 30-foot state of the art LED snowflake tree at Meigs Park near M Street and Pennsylvania Avenue which welcomes visitors to Georgetown from downtown DC, and a similar brilliantly lit 40-foot snowflake tree at Francis Scott Key Park, which can be seen by visitors as they come across the Key Bridge from Virginia.
"This new outdoor display of illumination preserves the historic charm of Georgetown while creating a festive atmosphere which complements its legendary shops and restaurants," said DeZaio.
"The illuminated streetscape contributes to the vitality of Georgetown and provides a visual holiday treat to those living, working or visiting the District of Columbia," added John Wiebenson, Deputy Executive of Operations for the Georgetown BID.
The dazzling display of cool white LED lights in the Georgetown BID carries over into Washington Harbour, a lifestyle center within Georgetown situated on the Potomac River waterfront. Washington Harbour's illuminated overhead canopy of cool white LED lights festooned with snowflake arches is flanked by brightly lit trees and spans nearly 400 feet of the quaint cobblestone pathways in the upper plaza.
Also alight with holiday spirit is the Washington Harbor Ice Rink, Washington DC's newest and largest outdoor ice rink. This 11,800-foot ice rink, with thousands of clear LED lights decorating its circumference, is located at 3000 K Street on the lower plaza and will be open for recreational skaters to enjoy until March 2013.
"The new festival lighting program created for Washington Harbour provides a setting of wonderful sights for those who shop, dine, work and live in the DC area and should not be missed this holiday season," said Shawn Kyle, general manager for Washington Harbor.
From conception to completion, the entire process of producing the festival lighting program for the DC destinations was a ten-month long project done by Center Stage Productions based in Fair Lawn, New Jersey.
The recommended time of day to enjoy the sparkling seasonal display is anytime after 5pm. The festival lighting display runs through February 2013.
About Center Stage Productions
Center Stage Productions, based in Fair Lawn, NJ, custom creates a range of promotional environments including festival lighting, seasonal décor, children's soft play areas and modular barricades for shopping centers, retailers, airports, amusement parks, museums, zoos and more. Center Stage Productions' innovative designs have been created for hundreds of destinations across the United States and the world. In business for nearly 30 years, Center Stage Productions' comprehensive services include design, planning, production, transportation, management and operations. For more information, please visit http://www.cspdisplay.com or contact Brenda Tietjen at btietjen(at)cspdisplay(dot)com.