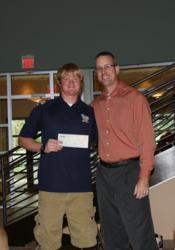 We feel honored to give something back to the brave men and women who have served in our military. Homes for Our Troops provides us with the opportunity to get involved in a meaningful way with local veterans whom we are proud to assist.
(PRWEB) December 21, 2012
The emotionally triggered endorphins were flowing and so were the tears, as Mark Schabes, the Director of Marketing for ISPC announced to their staff, business partners, merchants and special guests how and why ISPC decided to get involved in supporting a particular charity. 23-year old retired Marine corporal Justin Gaertner sat in a chair next to the podium facing the crowd with a smile on his face. He looks like any typical young man with his whole life ahead of him, save the conspicuous prosthetic metal legs jutting out from his cargo shorts. Justin would soon be announced not only as a special guest speaker, but also as the direct beneficiary of the donation to be made on this day. Justin is slated to receive a brand new home soon; built and specially adapted to his needs and provided by the charity Homes for Our Troops without any financial obligation.
Gaertner lost his legs when an improvised explosive device, or IED, detonated beneath him in Marjah, Afghanistan on November 26, 2010. It was his third deployment to the region and the fifth time he was involved in an explosion but the first in which he was so exposed. His convoy had set off two IED's and while his best friend Martinez lay on the ground screaming for help, Gaertner swept the area attempting to find a safe landing area for the medevac helicopter when he triggered the pressure plate that changed his life forever.
A golf tournament, which ISPC hosts annually, was altered this year to raise money for Homes for Our Troops to help build Justin's home. The company asked for financial donations from many of its vendors and they responded with a total of $8,300. Schabes then announced that ISPC rounded that number up to provide a total contribution of $10,000.
Schabes had to pause a time or two to calm his emotions as he explained the process and expressed his gratitude to all those who supported the fundraising effort. "This is just the beginning of our commitment to Homes for Our Troops. We've been so moved by their support of our heroic servicemen and women who have returned home with sever injuries and disabilities that we've pledged to get more involved in additional fundraising efforts and volunteerism."