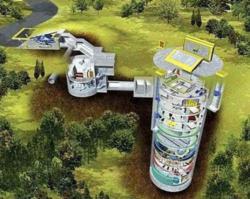 responsible people are called upon to say this is a symbol. This is a myth. This is not something that's really going to happen
Asheville, NC (PRWEB) December 19, 2012
People are spending large sums of money preparing for what some believe will be the end of the world. We first read about super luxury apartments in a missile silo in Kansas in the Huffington Post back in April. Many thought that the idea was insane but by June the doomsday condos were sold out. The doomsday condo complex extends 174 feet into the earth and has walls up to 9 feet thick. The Examiner says that many who purchase these or other high end shelters do so in secret. They hide the fact they have access to these shelters because they are only made to house a 4-6 person family and should doomsday come they would not want others fighting to get inside. Other countries have similar accommodations for the super wealthy. A Swiss shelter nicknamed "survival villa" is hidden in the Swiss Alps and is supposedly one of the most advanced bunkers to date. In Shanghai, the police needed to announce a public warning about 12/21/12. "The end of the world is a rumor," the police said, in an internet post. "Do not believe it and do not be swindled". Murray Stein Ph.D. of the International School of Analytical Psychology Zurich urges against preparing for an end to the world. In a recent seminar by the Asheville Jung Center Stein was quoted as saying, "I think responsible people are called upon to say this is a symbol. This is a myth. This is not something that's really going to happen."
The Asheville Jung Center along with innerQuest Psychiatry have offered critical insights that may help quell the panic about the Mayan prophecy due to be fulfilled December 21, 2012. "The End of the World" conference held on November 28, 2012 featured experts in the field of the culture of the Maya along whose additional expertise in Jungian psychoanalysis uniquely prepares them to guide us through the complex and potentially disruptive times ahead. The full conference can be purchased online at this LINK at a special discount for a limited time.
The panic and fear spreading across the globe is part of the transition from one Aeon of humanity to another. According to Nancy Furlotti, a Jungian Analyst practicing in New York, "We are the people of the maize" representing the fourth great cycle humanity has passed through. The Mayan Calendar is an intricate set of cycles within cycles in which the longest cycle lasting more than 5000 years reaches an end this month. Be not afraid! The end of one cycle is always the beginning of another. While others scurry in fear, there are some who are encouraging humanity to prepare for the transformation into the fifth great cycle.
For more opinions from experts at the Asheville Jung Center please visit our End of the World Seminar Page.