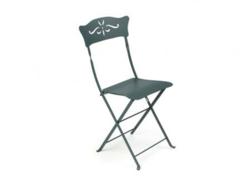 ...practical yet beautiful furniture appropriate for both inside and outdoors.
Metairie, LA (PRWEB) December 26, 2012
Introduce the Cote d'Azur style to your outdoor area with the Bagatelle metal folding chairs and the Opera table from Fermob. In the online look book, they're dressed up with fun table linens and accessories as suggested by My Home Ideas. French patio furniture from Fermob outdoor lounge has many uses, a bountiful color palette and timeless design. Created by expert craftsman with a eye for style, Fermob is practical yet beautiful furniture appropriate for both inside and outdoors.
As the online feature explains, creating an inviting outdoor space for friends and family is simple with the right basic pieces. From there, accessories and linens will transform furniture into romantic places or fun and festive gathering spaces. Fermob outdoor lounge makes the ideal base for outdoor decorating because of its versatility.
The Opera table is a nice design from Fermob that comes in multiple sizes for many outdoor needs. The shape of the Opera table's legs add beauty to this design for sure. In this look book, the editors pair it with a market umbrella. The Bagatelle bistro chair is like in design to the classic folding chair, but with an intricate pattern on the backrest. Both metal designs are painted with a powder coating of paint that is baked on to protect from UV rays. Actually, Fermob uses this process on every piece of outdoor furniture to ensure years of use and lasting enjoyment.
For more information please visit http://www.thegardengates.com or call 1-877-780-6699.
About The Garden Gates:
The Garden Gates was founded by Jacqueline Elizabeth Kendall-Harris and Chad Harris in 1999. Jacqueline plays an instrumental role in product development, interior design and in developing core principles of The Garden Gates lifestyle. Chad plays an instrumental role in the creativity of the brand, marketing and technology of the business.
Source: http://www.myhomeideas.com/decorating/design-ideas/french-patio-design-tips-10000001840674/index.html