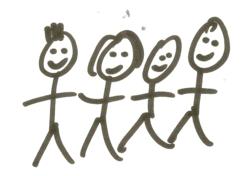 People say our workshops help them to get on better with their colleagues
Birmingham, UK (PRWEB UK) 20 December 2012
Companies who are looking to invest in their employees ahead of the upturn will now be able to find reputable coaching and training company PDA online at http://www.contactpda.com.
With 15 years of experience and a strong relationship with many diverse clients, PDA wanted to use their new website as an online platform to demonstrate what is at the core of their expertise.
PDA work with everyone from individuals up to large organisations who require any combination of services in the coaching and training space. This ranges from improving internal conversations and conflict to leadership development.
Historically, the company has grown a strong client base through word-of-mouth referrals, but has identified that there is a growing market for training ahead of the expected upturn, making the website more vital than ever.
It is also now possible to book places to the popular PDA Open Workshops through the website, which take place in venues across the UK. The workshops are designed to improve individual professional development, whether self-employed or an employee in a large organisation.
Tasha George at PDA said: "We've had great feedback for the Open Workshops, so it was really a natural step for our website visitors to be able to book these online too. People say our workshops help them to get on better with their colleagues, achieve what they really want, and get results."
The new website was designed and developed by Manchester digital agency Athernet, who will also be looking after the digital marketing for PDA.
Tom McCambridge, Head of Creative at Athernet, said: "We designed the PDA website to fit in with their core values, including 'people come first' and 'passion for excellence'.
"By using responsive web design techniques people can now access the website from any device, providing them with a much more seamless journey on their way to their life goals," added Tom.