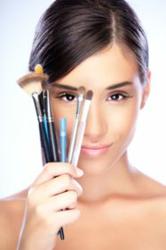 The whole facelift recovery process can take a lot of getting used to, especially considering how prone people are to looking in the mirror.
Park City, UT (PRWEB) December 20, 2012
"Vogue" predicts that makeup trends for spring and summer 2013 will be dictated by what was seen on the runways in late 2012. Colorful eyeliner, bejeweled eyelids and extra-long lashes expected to be next year's en vogue trends. As the jet set look to New York, London and Paris for fashion advice, FaceForum tracks trends in a different line of makeup: camouflage cosmetics.
"For anyone who truly loves makeup," says Shawn Miele for FaceForum, "the initial recovery period after facelift surgery can be tough."
In fact, choosing the right shade of eye shadow is the least of their worries.
"Immediately following facelift surgery, patients are bandaged and often have sutures along their hairlines. Their faces can be bruised and look puffy anywhere from a few days to a few weeks after surgery. The whole facelift recovery process can take a lot of getting used to, especially considering how prone people are to looking in the mirror."
Vogue's predictions suggest women may prefer to glam it up, but patients recovering from facelift surgery should be extra careful about what they put on their faces and when. In response to that need, FaceForum recently published article teaching women which products to consider and how they can safely manage their urge to use makeup after facelift surgery.
"Most of FaceForum's reader report feeling comfortable being seen in public one to three weeks after facelift surgery" explains Miele. "They may still show signs of bruising and puffiness, but other people aren't likely to notice it."
Miele says a primary consideration should be whether the plastic surgeon who performed the facelift encourages the use of makeup to conceal scars, bruises, etc. If the answer is yes, two types of products are likely to be recommended: certain over-the-counter cosmetics and camouflage cosmetics.
Over-the-counter cosmetics a patient already owns should be screened for safety by a plastic surgeon prior to use after surgery. The goal of this is to identify anything that might delay healing, irritate delicate skin, or cause adverse reactions.
Camouflage cosmetics are designed to hide bruises and scarring without compromising the healing process. Some plastic surgeons sell camouflage cosmetics on site. However, they can generally be purchased online or offline from a wide range of sources: department stores, specialty retailers, drug stores, etc.
Consumers can learn which trends to look for and where to purchase their camouflage cosmetics at FaceForum. The site provides information about facelifts and related procedures, offers an online user forum and hosts a board-certified surgeon database.