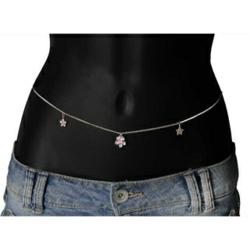 We've definitely seen an increase in the sales of both ear gauges and ear tapers this year.
Urbana, IA (PRWEB) December 20, 2012
As the year winds down, it's been one of growth for e-commerce retailer BellyBling.net. The web-based business has increased its inventory of belly button rings and added new categories of body jewelry products. The company also created a blog, which regularly features videos of the products to give customers more information before purchasing.
Merchandise manager Stasi Edberg says the number of new products added was based on customer requests, but celebrity trends are also now playing a larger role in deciding what new items to add to the website.
"We started to hear more talk in the industry about belly chains after Rihanna and Beyonce were seen sporting them," said Edberg. "We've added several styles and they've been a big hit with our customers."
Edberg says the fact that some of the belly chains are a chain only and do not require a belly button piercing has also added to the popularity: "Having the look of a belly chain without the need for an actual piercing has been a great option for those that don't want to commit to a permanent piercing."
Ear gauges are another category that's taken off for BellyBling, with the addition of several sizes and styles of both ear gauges and ear tapers. The new products, which have been traditionally considered body jewelry for men, have led to a marked increase in male customers shopping on the BellyBling website.
"Ear gauges are gaining in popularity thanks to musicians like Adam Lambert and reality TV stars like Maci Bookout wearing the jewelry, and we've definitely seen an increase in the sales of both ear gauges and ear tapers this year," said Edberg. "We started the year selling only a few styles but now offer nearly 200 on the website."
While trends are always a cause for a rush of new products, Edberg says classics like gold belly button rings are still favorites with customers, particularly those looking for a higher quality belly ring. Both traditional yellow gold and white gold are selling equally well, and all are accented with gems, which adds to the more expensive look many customers are seeking.
While 2012 has been a big year for BellyBling.net, Edberg says plans in the works for 2013 include adding even more belly ring styles, as well as increasing the number of themes of body jewelry. The company has had great success with their current category of Hello Kitty body jewelry which includes belly rings, dermal anchors, tongue rings and nose rings.
"It's clear that customers are looking for popular themes no matter what type of piercing they have; in 2013, we hope to always have the newest trends available for all of our customers," said Edberg.
###
About BellyBling.net
BellyBling is an e-commerce merchant owned and operated in Urbana, IA under parent company Clickstop, Inc. Focused on offering trendy, stylish body jewelry, BellyBling strives to make customer service a top priority, with the very best selection, value prices, and extraordinary service to every customer. To view the full selection, visit BellyBling.net.