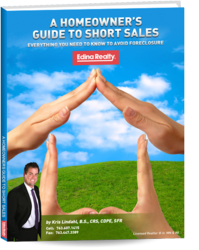 he short sale process may be a complex one, but with a little guidance, and the right agent, it can be smooth and easy
Blaine, MN (PRWEB) December 19, 2012
The experienced Edina Realty agent Kris Lindahl held a seminar on the NationStar short sale process on Tuesday afternoon in Blaine, MN. "This seminar was part of a campaign that my team and I started to hold seminars based on different banks and lenders and the way they all handle the short sale process,"Kris Lindahl said of the seminar, and continued,"I've gotten a few calls about the NationStar process and thought this would be a great way to get the information out."
"The NationStar process begins by finding yourself the right agent,"Kris Lindahl said at the seminar, and continued,"Once you've done that, you and your agent will market your home to a buyer. Once you have sent NationStar all of the requested documents and written up a purchase agreement with the buyer, your agent and the NationStar negotiator will agree on a selling price and write up a short sale approval letter."
Kris Lindahl believes it is imperative that homeowners have all the information they can get their hands on. "The short sale process may be a complex one, but with a little guidance, and the right agent, it can be smooth and easy,"Kris Lindahl explained.
Kris Lindahl recently received the Chairman's Award from Edina Realty for excellence in sales and sales volume. "I chalk up my success to a lot of hard work and access to exclusive software that gives me the upper hand over other agents nationwide,"Kris Lindhal said of his success.
Call Kris Lindahl and the Kris Lindahl team for more information at (763) 607-1415. Visit the Minnesota Short Sale Calculator website to check eligibility and the Kris Lindahl real estate website. Download the complimentary eBook titled "A Homeowner's Guide To Short Sales."