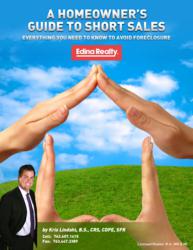 Plymouth is an ideal place to live and I've had many successful clients and sales in that area
Blaine, MN (PRWEB) December 19, 2012
The experienced Edina Realty agent Kris Lindahl has announced that he will be holding a short sale resources meeting in Plymouth, MN later this week. The meeting is part of a larger campaign run by Kris Lindahl and the Kris Lindahl team to go around the Twin Cities speaking about short sale resources and banks. "Plymouth is an ideal place to live and I've had many successful clients and sales in that area,"Kris Lindahl said, and continued,"For this reason I've decided to go and speak in Plymouth about the resources that are available to those who need them."
"I'll speak not only about banks and lenders that are good to work with on a short sale but also about how to get your hands on and use the many resources that I've created for this process,"Kris Lindahl says. Kris has created three short sale calculators, published an eBook on the process, and released a video series on YouTube.
"In order to buy or sell a home in a quick and smooth manner you'll need the very best tools at your fingertips, and with me as your agent I can guarantee that will be the case,"Kris Lindahl, the number one Edina Realty short sale agent, explained.
Call Kris Lindahl and the Kris Lindahl team at (763) 607-1415 for more information. Visit the Minnesota Short Sale Calculator website to check eligibility and the Kris Lindahl real estate website. Download the complimentary eBook titled "A Homeowner's Guide To Short Sales."