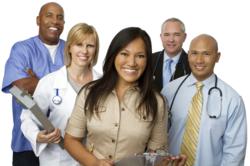 We've been connecting talented physicians with interested recruiters since 1991!
Fairfield, IA (PRWEB) December 21, 2012
At Physicians Employment, we believe there's an ideal candidate for every physician employment opportunity—and finding them should be easy. Since 1991, PhysEmp.com has been connecting recruiters with outstanding physicians in all specialties. We are excited to announce two new members of our team!
The PhysEmp Difference
Flexibility and integrity are our core values, and we'll work closely with you to meet your distinct needs. Being in the industry for decades means we have the tools to help you generate quality leads quickly, and for a fraction of the price other job boards offer. Our services are always free for physicians, who may search and apply to over 25,000 listings, or sign up to receive job alerts when a position is posted in their specialty and desired location. Some of our most popular listings include Internal Medicine,Family Practice, Hospitalist, Psychiatry, ENT, Pediatrics, and many more.
We view the physicians who visit our site as individuals, and we work hard to meet their needs as they search for exciting new job opportunities across the country. Whether via phone, email, or fax, we're ready and waiting to assist with a search or help with the application process.
PhysEmp's Vital Stats
•20 years in the physician job board industry.
•More consistently ranked #1 in Google search for physician job search keywords than any other job board site.
•Hosting over 8,000 MDs and DOs who are actively seeking employment.
•Approximately 50,000 unique visitors and 250,000 page views each month, generated by physicians viewing and responding to job opportunities.
•Links from 1000s of aggregate websites drive traffic to our site each day
PhysEmp.com is a "Physicians Only" site. We are independently owned and not subsidized by or affiliated in any way with search firms or healthcare institutions—all our recruiter tools are designed to serve our clients as well as the physicians who visit us.
PhysEmp believes in helping physicians in the fastest and friendliest way possible. We've added Melinda Fishel to our team this month to help with this effort. Mel brings years of customer service and experience in the healthcare industry to our team. She's friendly, helpful, and quick to assist physicians who call in. Mel can help update your profile, discuss job postings of interest, and connect interested physicians with the right recruiter.
PhysEmp also welcomes Tom Cingire to the team. Tom has years of experience in the corporate world, and spends his time assisting clients. Tom is able to tailor a package to the needs of each hospital or clinic, and is adept at explaining the best way to locate and hire talented physicians.
The PhysEmp Team is excited and happy to announce its continued growth, and looks forward to connecting even more physicians with great opportunities in 2013!