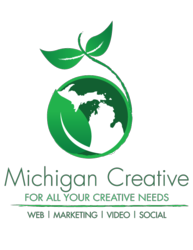 One of our core tenets is to inspire a creative and local economy through social networking, while focusing on local Michigan businesses
East Lansing, Michigan. (PRWEB) December 20, 2012
Michigan Creative, a full-service marketing company, today announced that it has expanded its staff to bolster its online video production and social media marketing capabilities. Michigan Creative Video will offer new packages in 2013 and expand their explainer video offerings.
Melissa Opitz has joined the Michigan Creative team to oversee the company's social media and writing division. Opitz, has a degree in Marketing from The University of Wisconsin-Eau Claire, and brings a wealth of knowledge and writing experience to the Michigan Creative team.
Michigan Creative specializes in providing low-cost, high-quality video production for businesses. Company founder and CEO Brian Town is one of the only Apple-certified Final Cut Pro trainers in the Greater Lansing region and has more than 20 years experience in video production.
"This expansion marks a major milestone in Michigan Creative's ability to generate high-quality marketing solutions for our expanding customer base," Town said. "Melissa's expertise will help us ramp up our writing and social media capabilities and continue our goal of provide a total marketing solution to our clients."
In addition to broadening its video initiatives, Michigan Creative also is expanding its animated video services with the appointment of Brian Fritz to oversee its efforts in that realm. Brian is a graphic design student at Michigan State, and is well versed in all adobe products. Fritz will will be responsible for managing Michigan Creative's expanding portfolio of explainer videos, graphic design, branding, and logo design.
"One of our core tenets is to inspire a creative and local economy through social networking, while focusing on local Michigan businesses," Town said. "We are committed to local business development and promoting the contribution of locally owned businesses to our community."