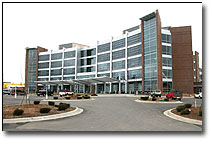 They understand that now, more than ever, we have an obligation to explore every avenue available to help those we serve with ways to prevent and treat illness. - Heartland Health Chief Brand Officer, Tama Wagner
Birmingham, AL (PRWEB) December 20, 2012
MEDSEEK, the provider of the healthcare industry's only strategic patient engagement platform, announces that it has signed a deal with Heartland Health in St. Joseph, MO to develop a three-year strategic patient engagement technology roadmap and to immediately deploy its ecoSmart Patient Precisioning consumer and patient predictive analytics and marketing solution.
As a nationally-ranked community hospital with an Accountable Care Organization, Heartland Health realizes that the key to continued success, growth of market share and successful population health management will be providing a variety of digital tools that engage patients and empower them to become more involved in their own health. The three-year strategic patient engagement plan, developed in collaboration between Heartland Health leaders and MEDSEEK's Converge consulting team, will outline the blueprint for successfully implementing web and mobile solutions tailored to meet the needs and expectations of today's patients.
In addition to the consulting engagement, Heartland Health selected MEDSEEK as its predictive analytics solution provider and partner because the powerful combination of the science and expert consulting services will help them be more precise in targeting individuals at risk with exactly the right message, helping the organization spend less on marketing to consistently achieve better response rates. Heartland Health will leverage ecoSmart Patient Precisioning not only in the traditional marketing sense to drive service line revenues and market share, but also to assist with population health management and Accountable Care goals, ultimately influencing an enhanced level of Patient Experience for the communities of St. Joseph and surrounding areas.
Heartland Health will work hand-in-hand with MEDSEEK's healthcare marketing consultants to develop both offline and online campaigns designed to proactively send health and prevention focused messages to patients in the community most likely to develop a serious medical problem. Leveraging national, local and Heartland Health's patient encounter data, MEDSEEK's ecoSmart Patient Precisioning solution will allow Heartland Health to monitor health patterns in their community, anticipate the future needs and requirements of patients, and execute a multi-pronged marketing and communications plan to increase patient comprehension, participation and compliance. By educating patients about potential health risks and the importance of making lifestyle choices that can help avert chronic disease, Heartland Health can help impove population health and reduce care delivery costs. By engaging patients as active care team members pre-admission, during a clinical encounter and at home through the ongoing stages of recovery and chronic disease management, Heartland Health can also help sick patients become better equipped, more effective self-care managers.
"We selected MEDSEEK as our predictive analytics solution provider and partner because of the robust, scientific, data-driven resources and strategy they offer," says Heartland Health Chief Brand Officer Tama Wagner. "They understand that now, more than ever, we have an obligation to explore every avenue available to help those we serve with ways to prevent and treat illness. We want to meet our customers where they are and provide the customized information tailored to their specific needs. Gone are the days of plastering a message and hoping that it sticks. Consumers are driving this decision for us — we owe it to them to be highly specific in our communications."
"MEDSEEK is pleased to have been chosen to partner with Heartland Health" said Peter Kuhn, MEDSEEK's CEO. "We look forward to assisting the organization as it pioneers to become one of the best health systems in the country, focused on patient-centered care. Leveraging the patient engagement roadmap we jointly develop, as well as the power of MEDSEEK's predictive analytics, I know Heartland will have both the technology and strategy it needs to successfully improve market share and increase revenues, all the while keeping a laser focus on population health management efforts by driving wellness throughout the community."
To learn more about how MEDSEEK is helping Heartland Health and other healthcare organizations find, attract and engage patients visit http://www.medseek.com.
About Heartland Health
Heartland Health is an integrated health delivery system, which includes a Heartland Regional Medical Center, Heartland Clinic, Heartland Foundation, Community Health Improvement Solutions and Mosaic Life Care. Founded in St. Joseph in 1984, Heartland seeks to improve the health of area individuals and communities and to provide the right care, at the right time, in the right place, at the right cost with outcomes second to none. Commitment to this mission has enabled Heartland Health to become the leader in health care in a 21-county area of northwest Missouri, northeast Kansas and southeast Nebraska. With the launch of Mosaic Life Care in Kansas City, Heartland is transitioning health care to life care, focusing on helping people become the healthiest, happiest version of themselves. Providing exceptional care and service in an honest, respectful, trustworthy and caring manner is simply the way Heartland operates.
About MEDSEEK
Since 1996, MEDSEEK has focused exclusively on creating a strategic patient engagement platform comprised of web, mobile, social and predictive analytic solutions. The MEDSEEK Engage platform provides an integrated set of capabilities to help organizations significantly influence healthcare consumer behaviors to drive revenues, contain costs and better balance the financial equation, while simultaneously empowering individuals with the personalized information and tools they need to serve as active participants in their health. With MEDSEEK technology, hospitals and health systems can better predict the needs of their patient population, uncover new sources of revenue, empower patients and families as participants in their care, lower healthcare costs and provide a superior online healthcare experience that results in lasting health-related loyalty. MEDSEEK has over 200 customers representing over 1,100 hospitals including many of the top hospital systems in the United States and Canada.