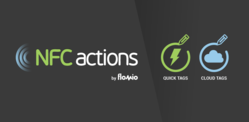 The difference from other task launcher apps is simple: Flomio's backend let's actions live in the cloud rather than on the tags. If you think about it, this is so much more useful.
Miami, FL (PRWEB) December 20, 2012
Flomio, a Techstars Cloud Company, with a recent Kickstarter success for the FloJack announced the release their NFC Actions app for Android today. Their approach is disruptive because with Flomio's NFC Actions app, NFC task lists can now be stored in Flomio's NFC Cloud Engine. Tags only need to be provisioned once. If users want to change their NFC tag's programming, they only need to log into their Flomio admin panel, reassign tasks, and they're good to go. Not only does this innovation allow NFC enthusiasts to use smaller capacity, less expensive NFC tags, it also allows full command of NFC tag programming from a central location. Flomio sees NFC Actions as a disruptive move with incredible potential, especially in marketing and event based campaigns.
"If you've been been writing NFC Tags for some time, or you're an enthusiastic newbie to the NFC Party, and all too often you find that some of the more exciting combinations of NFC actions require more space than your NFC tags have to offer," says Tim Ronan, Flomio co-founder and CXO with 18 yrs of design, branding, advertising and marketing experience, "or say you find it cumbersome to physically rewrite your tags every time you want to change a tag's tasks, we have another new disruptive NFC innovation for you: NFC Cloud Actions. If your goal is to explore new mediums for brand messaging, this is it. Are we excited? Without question."
Richard Grundy, Flomio founder with more than 12 years of experience developing embedded systems at Motorola, further adds "After months of hard work, we're proud to announce the release of NFC Actions, the first-of-its-kind native and cloud integrated NFC Actions app for Android.  An evolution of Flomio's popular NFC Quick Actions app, this release completely re-engineers our action engine to respond in real-time to instructions stored directly on tags or referenced from our secure cloud infrastructure. The cloud allows more robust experiences."
On the same level as other NFC task toolbox apps like Samsung's Tectile App, Tagstand's NFC Task Launcher or NXP's TagWriter, Flomio's NFC Actions app makes it easy to read and write NFC tags with an NFC enabled phone. Like other NFC task toolbox apps, NFC Actions can write native tasks, which means tasks are programmed directly onto an NFC tag. What elevates NFC Actions above its contemporaries is cloud actions.
"The difference from other task launcher apps is simple: Flomio's backend lets actions live in the cloud rather than on the tags," says Fernando Cejas, Flomio co-founder and creator of NFC Actions's predecessor, NFC Quick Actions, "If you think about it, this is so much more useful and we're giving it away, just in time for the holidays. We need to put NFC in the people's hands to push the NFC discussion forward."
NFC Actions offers not one, but three disruptive innovations:
Disruption 001: With all of the other NFC task toolbox apps, actions are written directly onto the NFC tags. As actions, or combinations of actions, get more complex, users have to purchase larger, more expensive tags. NFC Actions allows users to write exciting combinations of actions onto the least expensive, low capacity tags by storing all of the task programming in the cloud.
Disruption 002: With all of the other NFC task launcher apps, if users want to change a tag's task programming, they need to walk up to each tag and physically rewrite each and every tag. If a user makes a tag read-only, and decides he or she wants to change the tag's program, they can't. Users have to get a new tag, program it, and replace the old one. With NFC Actions's revolutionary cloud actions feature, users can change a tag's tasks dynamically from the cloud, from anywhere in the world, that launch tasks from their NFC tags in real-time.
Disruption 003: With all of the other NFC task toolbox apps, users are limited by the storage capacity of their NFC tags. With cloud actions, this limitation no longer exists. NFC experiences can be reassigned in real-time, in response to real-time metrics generated by the NFC experiences. NFC task programming can now be more robust and complex.
Ronan adds, "It's all about inviting everyone to the NFC Party. The NFC ecosystem will really take off when everyone has NFC, and is actively playing with it. We're all about busting through doors and knocking down walls. Our recent Kickstarter success with the FloJack and FloCase, makes it possible for Apple device owners to join the NFC Party for the first time. Now with NFC Actions, and cloud actions, we're making it easier and less expensive to write and re-write tags. Another first. New exciting marketing experiences with NFC Actions's cloud actions are truly endless, especially in Digital Out of Home."
NFC Actions is free, and currently available for Android on Google Play. NFC Actions offers all of the features it's predecessor NFC Quick Actions did, and so much more. As promised on Flomio's recent Kickstarter profile page, NFC Actions for iOS will be released in 2013.
For more information on NFC Actions, head to Google Play. As an extra perk to Flomio's NFC Party Holiday Bonus, Flomio is also proud to announce the opening of it's new online store. If fans missed out on their Kickstarter project, they can still get their hands on a FloJack, or a FloCase at discounted prices on http://www.flomio.com.
About Flomio
Flomio, a Techstars Cloud 2012 company, is comprised of four entrepreneurs with a vision of a complete NFC future. Founder, Richard Grundy, has more than 12 years of experience at Motorola R&D focusing on embedded systems. John Bullard worked with Microsoft, and also developed enterprise software in Washington. Tim Ronan brings years of creative development to the team with a resume that includes Volkswagon Fast, The Creek South Beach Art Hotel, and Rawkus Records. Rounding out this impressive squad is Fernando Cejas, Android developer and member of the Google Developer Group.