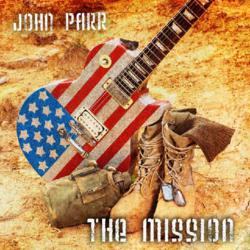 http://www.walmart.com/ip/21264285
Charlotte, NC (PRWEB) December 21, 2012
Grammy Nominated Singer-Songwriter John Parr Announces the Release of His Patriotic Album "The Mission" in Walmart Stores as well as Walmart.com
http://www.walmart.com/ip/21264285
Parr is donating the production costs of the album and substantial proceeds to: The USO, USA Cares and Military Family Charity.
John has spent this past year playing free concerts for the American Military and plans to do continue well into 2014. America was the one country that gave John the success with his amazing career in the 1980's and doing good for the Military is John's way of giving back to his second and most favorite home.
Throughout his 40 year music career, Parr has savored a wide range of experiences. Having sold more than 10 million albums, he has worked with a variety of top industry names, including Tina Turner, Bryan Adams, Meatloaf, Journey, Richard Marx, Celine Dion among others. He has also collaborated on song writing with such people as Mutt Lange, Harold Faltermeyer, Marvin Hamlisch, David Foster and Roger Daltrey.
John's music has been featured in numerous iconic movies including: 3 Men and A Baby, The Running Man, Miami Vice, Near Dark, American Anthem and Quicksilver. Rock Band Game released the first of John's songs "Under A Raging Moon" on September 13th 2012 and will release dozens additional songs in the near future including the entire "The Mission" album.
"From his songwriting to his performances, John Parr's steadfast dedication to our troops is evident. I have watched him perform in a packed venue honoring America's Military, his words and music are inspiring. John's talents are helping honor our heroes and I thank him for that". Brigadier General, Anthony J. Tata
This album is a very Rock/Pop/Country album.
If you would like to schedule an interview with John Parr please contact: Barbara Terry:
303-550-8186, BarbaraTerry08 (at) aol (dot) com, http://www.JohnParrAmerica.com
"Like" John on Facebook: John Parr America