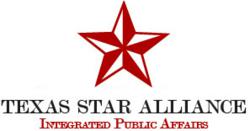 "The addition of Tom Suehs brings another public policy expert to our firm's deep roster. Tom is one of the brightest healthcare policy minds in the nation." John Pitts, Founder, Texas Star Alliance
Austin, Texas (PRWEB) December 19, 2012
Today, the Texas Star Alliance announced that former Texas Health and Human Services executive commissioner Tom Suehs will be joining the firm. Considered by most to be the foremost expert in health and human services in Texas, Suehs brings more than 25 years of public policy experience at both the state and national levels.
"The addition of Tom Suehs brings another public policy expert to our firm's deep roster. Tom is one of the brightest healthcare policy minds in the nation. Overseeing the recent statewide rollout of Medicaid managed care and conversion to outcomes based reimbursement gives him an unparalleled understanding of the future path for healthcare delivery and funding," John Pitts, founder of Texas Star Alliance, commented. "His experience and reputation speak volumes. We are extremely proud to have Tom join our firm."
Tom Suehs was appointed Texas Health and Human Services Executive Commissioner on September 1, 2009, by Governor Rick Perry. As Executive Commissioner, Suehs provided leadership and strategic direction to the health and human services system in Texas. The Executive Commissioner oversees the operations of the five health and human services agencies, including more than 57,000 employees and combined annual budgets of $30 billion, serving more than 3.8 million Texans.
In the February 2011 Texas Monthly Power article, Nate Blakeslee, Paul Burka and Patricia Kilday Hart said that Suehs is, "the one person whom lawmakers from both parties rely on to sift through all the arguments made by competing special interests and deliver sound judgments about who needs what." The article went on to say that Suehs "is no ordinary bureaucrat. Politically savvy and whip-smart, he's also a dynamic leader."
About Texas Star Alliance
Texas Star Alliance integrates legislative advocacy, legal protection and strategic communications to create public policy success for our clients. Based in Austin, we specialize in direct lobbying, state agency relations, administrative rule-making, coalition building, strategic communications, media relations, social media and more. We address our clients' complex public policy challenges with sophisticated, integrated services that are more effective – in outcomes and costs – than traditional methods.