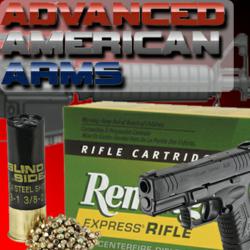 Advanced American Arms has the best prices period. I compared their prices on a popular Marlin .22lr carbine to those of well-known online firearms suppliers and found Advanced is about 10-20% cheaper.

-Robert Donald of CO
Hart, MI (PRWEB) December 21, 2012
The firearm industry is heating up to bring forth cool Christmas gift ideas for firearm enthusiasts around the country. From premium optics/scopes and hard to find ammunition to survival supplies and information about popular firearms, Advanced American Arms in Hart, Michigan has Christmas covered.
Right now, Advanced American Arms is offering a $10 gift certificate good for purchases online just for signing up for their periodic newsletter. Newsletter recipients can expect to receive updates about firearms accessories, parts, models, and current firearms news and information can be found nowhere else. A $10 gift certificate is the perfect stocking stuffer or can be used to complement the purchase of a brand new rifle or shotgun for a deserving boy or girl. As the time counts down to Christmas morning, Advanced American Arms wants to make sure customers have the gifts they need to be a true hero by taking advantage of their $10 gift certificate by simply signing up for their periodic newsletter.
Customers need to keep their constitutionally guaranteed rights safe by buying their firearms and ammunition from a reputable and responsible online FFL dealer who follows the law and is a source of accurate and up-to-date information. Advanced American Arms follows all federal and state laws when it comes to transferring firearms to customers throughout the United States and is available to answer any questions when they surface. Contrary to popular belief, purchasing a firearm online is just like buying a firearm at a store. In fact, any firearms purchased online from a company such as Advanced American Arms must be shipped to a valid Federal Firearm License dealer who will then perform the necessary background checks and paperwork before transferring the firearm to the customer. By doing so, responsible Federal Firearm License dealers help enforce compliance to the laws established and therefore customers can be certain that everything is legitimate and legal when purchasing a firearm online.
Advanced American Arms also provides a source of information about upcoming firearms legislation to be presented to Congress. Many people have questions and concerns about the future of the 2nd Amendment and Advanced American Arms strives to provide accurate and relevant information concerning such issues. Website customers are encouraged to visit the Obama Gun Law page for more information concerning 2nd Amendment legislative issues while signing up for the free newsletter and $10 gift certificate.