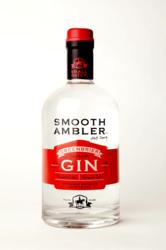 MAXWELLTON, W.V. (PRWEB) December 20, 2012
Greenbrier Gin from Smooth Ambler Spirits has been selected as a finalist for this year's "Good Food Awards". The awards go to foods that are produced using responsible methods and also exhibit superior taste. Pointing to the increased demand for responsible food production, the number of entrees to the competition grew by 40% over last year for a total of 1366 entrees across nine categories, including spirits.
Smooth Ambler's commitment to responsible food production is evident. Approximately 85% of the grains that go into Greenbrier Gin are grown organically and exclusively for Smooth Ambler by a farmer located less than 30 miles from the distillery. The botanicals used are also certified organic. Additionally, Smooth Ambler incorporates recycled cardboard in their packaging material and the used grain mash is given to a local farmer for cattle and pig feed.
"We are doing our best to 'practice what we preach' in our own production as well as that of our suppliers. We take the production of our products very seriously and believe we have made the best choice for us and the consumer," said owner and head distiller, John Little.
About Smooth Ambler Spirits
Smooth Ambler Spirits proudly hails from West Virginia and uses age-old "Appalachian know-how" to inform their entire production from grain to glass. The love of the craft is apparent in every spirit produced and the results are darn delicious.
###