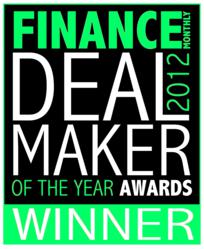 Montreal, Quebec (PRWEB) December 27, 2012
ODESIA Group Inc. ("ODESIA" or "the Company") (TSXV: ODS), an international corporation specialized in Enterprise IT solutions, was awarded with the Deal Maker of the Year 2012.
Mr. Nicolas Bonnafous, President and CEO of Odesia, received this week the Deal Maker of the Year Award from the International Publication 'Finance Monthly' for successfully acquiring and integrating Interfacing Technologies Corporation. Interfacing was acquired in May 2012 for $1.5 Million cash and the issuance of $4 Million shares. Based in Montreal, Interfacing (http://www.interfacing.com) is a Business Process Management software pioneer founded in 1983 and has clients globally across all industries.
Interfacing's award-winning BPM solutions are intuitively designed for business users and cover the full spectrum of process improvement and governance initiatives. Odesia Group acquired Interfacing Technologies to achieve their Unified Business Intelligence (UBI) vision by consolidating both Interfacing's BPM Solutions and Odesia's BI Expertise. "By Acquiring Interfacing, the Unified Business Intelligence footprint is now becoming a reality," states Mr. Nicolas Bonnafous.
In mid- September 2012, Odesia acquired as well Gestion Passerelle Inc., a Consulting company, for $850,000 and issuance of 300,000 shares. This acquisition was immediately accretive to earnings and actually operates on an annual revenue rate of $3,500,000. With 2 major acquisitions in 2012, Odesia operates today on an annualized revenue run rate of approximately $16,000,000 and continues to evaluate potential acquisition in the BIG DATA field. By consolidating the Unified Business Intelligence (UBI) strategy, Odesia is aiming to become a global solution player in BPM, BI and Big Data. "We believe that Big Data is about to be Disruptive Technology for BI," declared Mr. Nicolas Bonnafous.
About ODESIA
ODESIA Group Inc. is a global technology provider that offers innovative Enterprise IT Solutions and Services. Odesia is specializing and has expertise in Business Intelligence, Big Data Analytics and Process Management. Odesia's vision is to continue growing into a global player in the Enterprise IT Service and Software industry by consolidating its BI, PBM and Big Data Strategies in one Unique Solution called the Unified Business Intelligence (UBI). ODESIA's mission is to empower enterprise level companies with the ability to improve the efficiency of operations, enhance process performance and make better business decisions by mastering the right information, at the right time, and the right place.
ODESIA is listed on the Toronto Venture exchange under the symbol "ODS".
For a copy of the latest company presentation, and brochure, please visit us at http://www.odesia.com
Disclaimer in regards to forward-looking statements
This news release contains forward-looking statements which reflect ODESIA's current expectations regarding future events and may involve risks or uncertainties. Actual results could differ materially from those projected herein.
Neither the TSX Venture Exchange nor its Regulation Services Provider (as that term is defined in the policies of the TSX Venture Exchange) accepts responsibility for the adequacy or accuracy of this release.
-30-
For further Information:
ODESIA Group Inc.
Mr. Nicolas Bonnafous
President and Chief Executive Office
Tel. 514.876.1155
Toll Free: 1 855 876-1155
Email nbonnafous(at)odesia(dot)com