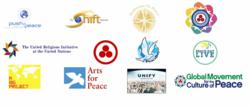 "Through this united global effort we will show that global change is not only possible, but it is on its way." - Dara Barlin, A Big Project
(PRWEB) December 19, 2012
On December 20, 2012, artists, activists, corporate leaders, celebrities, politicians, Nobel Peace Prize laureates and individuals around the planet are coming together to seek to do exactly what the Mayan Calendar predicts will happen – create a paradigm shift away from the world as we know it, and towards a more humane and peaceful world.
The Global Event "Help Life Change" will take place online and will be broadcast on 3000 websites in 150 Countries around the world. The broadcast will feature artists, musicians and activists from every region who have developed creative projects for this event that present a vision for what a better world could look like, as well as messages of hope from NGO's such as PeaceJam, socially responsible corporate leaders such as the Intel Corporation, and forward-thinking politicians including NYC Councilman Dan Garodnick.
In cooperation with Peace Day TV, the event will also feature the work of a number of celebrities around the globe using their talent and influence to create positive change, including Angelina Jolie, Dolly Parton, Julieta Venegas, Russell Simmons, Jane Goodall, Stephen Marley, Andrea Echeverri, and many others.
"These leaders will be joining the voices of people everywhere around one common message: we have the collective power to help life change." -Frank Dominguez, Arts for Peace
"Through this united global effort we will show that change is not only possible, but it is on its way." - Dara Barlin, A Big Project
The idea for the name of the event Help Life Change was developed after a survey of people in 97 countries provided their insights on how to make the world a better place. A rigorous analysis of the results showed that the top three words that occurred across all regions were Help – Life – Change.
Viewers of the event will also have an opportunity to participate by making and broadcasting their own live stream message of hope in the moment by using their mobile phones. This is one of the most technologically advanced opportunities available to bring together millions of people around the world… all in a call for a new level of global collaboration.
Event Details:
Broadcast Time:
December 20th at 9am-7pm NY Time (GMT -5)
Location:
This is an ONLINE event! Go to the main page at http://www.abigproject.org to see the broadcast.
The headquarters for the event will be taking place at multiple locations in United Nations plaza in New York City – including the United Nations Church Center, Millennium Hotel, and in front of UN headquarters. The NYC event is invite only (due to the limitations of space and the nature of the broadcasting).
In Cooperation With:
A Big Project, Arts for Peace, Pathways To Peace, Shift Network, United Religious Initiative at the United Nations, Push4Peace, PeaceDay.TV, National Ethical Society, Peace Day Live, Unify.org are supporting the event with over three dozen global organizations partnering to build a culture of peace on December 20th. Click here to see all partners.
The event is part of the Birth 2012 - Three Days of Love campaign, seeking to unify people around the world to birth a new era of compassion and humanity. The December 20th Global Event is taking place on the first day of love.
What else is happening on Three Days of Love?
Additional events on days two and three of the Birth 2012 - Three Days of Love campaign include Unify Jerusalem: A Global Call to Prayer to bring us closer to Interfaith Harmony & a global Yoga wave.
"We must unite our strengths to help build a Culture of Peace in this new era. This is humanity's main mission." -Michael Johnson, Pathways To Peace, Culture of Peace Initiative Representative