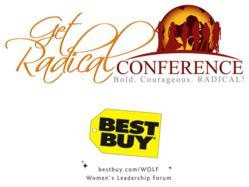 Washington, DC (PRWEB) December 19, 2012
Now, more than ever, women are seeking practical, realistic, useful strategies to achieve their business, career and personal goals. Welcoming women from Australia, Scotland, the United Kingdom, Canada and across the United States, the 5th Annual Get RADICAL Women's Conference provides the platform to give women the tools they need to excel in every are of their lives.
Giuliana Rancic, anchor of E! News and star of Giuliana and Bill, and Jillian Michaels, Wellness Expert and Trainer on The Biggest Loser, are featured keynote speakers at this event, taking place March 22 - March 24, 2013 at the Hyatt Regency in Reston, VA, just outside of Washington, DC.
"We are extremely excited to have Best Buy as a presenting sponsor this year," says Doreen Rainey, Success Coach and Conference Founder. "Women are accomplishing incredible goals, even in challenging times, and this conference is all about celebrating, encouraging and uplifting women from all walks of life - both professionally and personally. WOLF@Best Buy, their Women's Leadership Forum, shares this same commitment. And what better time to bring women together than in March when we celebrate Women's History Month."
This high energy, content rich program offers information packed keynotes, interactive workshops, networking opportunities and exclusive VIP events to provide step-by-step processes that the attendees can implement immediately to make radical changes around their finances, business, health and life balance. The conference speakers are coming armed and ready to share their stories, experiences and success principles to help attendees design the individual action steps necessary to move them to accomplishing their goals.
In addition to Giuliana Rancic and Jillian Michaels, speakers also include Personal Finance Expert, author and TV personality, Farnoosh Torabi; best selling author and Transformational Coach, Lisa Nichols; Lifestyle Expert and Founder of Om Aroma & Company, Angela Jia Kim and leading crisis and communication expert, and the inspiration behind the hit ABC drama series Scandal, Judy Smith.
This three-day event is presented by Doreen Rainey and the RADICAL Success Institute, a professional and personal development firm dedicated to helping individuals and organizations excel beyond the norm to experience self-defined success.
For more information on this upcoming event, please visit http://www.getradicalconference.com. To learn more about the Women's Leadership Forum at Best Buy, visit http://www.BestBuy.com/WOLF.