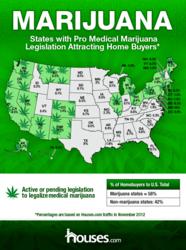 Miami, Florida (PRWEB) December 19, 2012
As the dust settles in the weeks following the Presidential Election, Americans are returning to life as usual. Gone are the political ads, debates and polls and most citizens are thankful to that end. However, the leading real estate website, Houses.com is detecting a small yet increasing trend under current in the ocean of politics. There is an amplified interest in the states where medical marijuana can be used without criminal consequences.
The voters in the states of Washington and Colorado have gone a step further and given their blessing to the recreational use of marijuana. Many other states have passed similar legislation that downgrade possession of the drug to the equivalent of running a stop sign. Each state will have different ordinances as to how much you can carry without the fear of facing a judge but, that aside there is a growing trend to legalize the use of medical marijuana in the United States.
The infographic illustrates (in green) the states that have legalized or passed laws allowing either the medical or recreational use of the plant. One eye opener was the increased number of homes for sale searches in New York and Maryland on Houses.com. Several states saw increases in the single digits; the searches in the tiny state of Maryland swelled to a full 14% and a whopping 22% in New York.
There are no hard and fast demographics for these online queries but when most people look for a home they generally have a stable income and the financial means to make the move. Widely distributed studies would lead most to believe it is the teenagers and the early 20s network that use marijuana. For more information, see the recent study by the American Medical Association: http://www.druglibrary.org/Schaffer/hemp/medical/block.htm. Nevertheless, those age groups by and large, don't have access to the cash reserves needed to make major purchases like a home.
Although the increased traffic is by no means immense yet, the percentages of increases were enough to catch more than a few eyes. Founder and CEO of Houses.com, Richard Swerdlow commented on the recent findings, "The U.S. is traditionally conservative and cautious about the use of marijuana. Looking at the traffic by state breakdown paired with recent legislation on the drug suggests that citizens may want to see that changed."
The inforgraphic clearly illustrates that the plain states, the Southeastern Seaboard and Southern states, are more conservative in their approaches to marijuana. Many citizens who are in favor of these relaxed measures are predicting it is just a matter of time before all states have some kind of legal verbiage for marijuana and its use.
For more in depth information on this subject read the full article here: http://www.houses.com/Learn/HousingNews/Marijuana-Tolerant-States-Attract-Homebuyers-to-Houses.com. Realtors in these 20+ states may want to keep their eyes on the marijuana legislation in their vicinity. When the topic is brought up in conversation; being prepared to answer client's questions with an informed and educated voice may be an advantage.
About eReal Estate Holdings
eReal Estate Holdings LLC owns and / or operates the category-defining portals Condo.com, Houses.com, Property.com and Location.com. These real estate portals are the world's largest online marketplaces for real estate with more than 30 million properties for sale, rent and vacation in the United States and 70-plus countries around the world. The sites receive more than 1.5 million visitors per month, and cost-effectively deliver exposure and qualified leads to builders, real estate professionals and homeowners. In addition to property for sale and properties for rent, site visitors have access to a wide variety of real estate-related products and services, including mortgages, credit repair, home improvement, moving and more. Location.com was launched in beta in November 2012 in order to capitalize on the rapid growth of location-based advertising and search.
The privately held eReal Estate Holdings LLC is headquartered in Miami, Florida. For more information, please visit http://www.erealestateholdings.com.