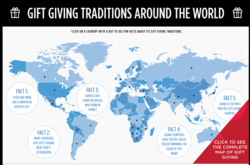 This interactive infographic is a fun way to learn about gift giving traditions all over the world -- just in time for the holidays!
Boulder, CO (PRWEB) December 19, 2012
Santa Claus was born in Turkey. Japan is the most prolific gift giving country in the world. Swedes celebrate birthdays with breakfast in bed.
These are just a few of the interesting facts collected in this interactive infographic covering gift giving traditions around the world and released by Cloud 9 Living this week, just before the biggest gift giving holiday in the world: Christmas.
The infographic features an interactive map that allows users to click on more than 16 countries and ethnic regions to learn more about their gift traditions. Users can also click through to the Cloud 9 Living blog for an in-depth article about that country's gift giving traditions and taboos.
"This infographic is a great resource for world travelers, students planning to study abroad, and anyone who wants to learn more about the world's cultures," says Greg McGuire, marketing manager at Cloud 9. "Especially during the holidays, when everyone is thinking about giving gifts, it's interesting to take a minute to learn how the rest of the world does things."
Cloud 9 Living is an experience gifts company based in Boulder, CO. Experience gifts are single-day, once-in-a-lifetime events that can be given instead of a material product. Cloud 9 is an industry leader in the United States with more than 1,800 experiences in 43 cities ranging from skydiving to spa packages, city, food and adventure tours, and much more.
"Cloud 9 Living's mission is to change the way people give gifts, and first understanding just how much variation and creativity there is in gift giving across the globe is a great way to start!" says McGuire.
Embed this infographic in your next news publication! CLICK HERE!