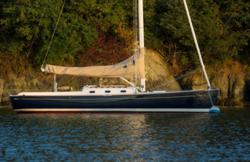 Newport, Rhode Island (PRWEB) December 20, 2012
Bluenose Yacht Sales with sales offices in Newport, Rhode Island, and South Portland, Maine was recently notified by three of the most prominent sailing magazines in the United States of their nominations of the Sparkman Stephens 30 to be considered as Best Boat of the Year (BOTY) and Best Boat.
The Sparkman Stephens 30 was launched in September 2012 and participated in the Newport Boat Show and the Annapolis Boat show with great success and accolades.
Bluenose Yacht Sales, one of New England's leading broker dealers for used yachts as well as representing Beneteau Group's Jeanneau and CNB Bordeaux 60 brands combined with the new S&S 30, Cabo Rico, and the E33, is very excited by these sailing award nominations.
Bluenose Yacht Sales, as the exclusive distributor of the S&S 30, "BABE" together with Sparkman Stephens design team, have engineered a great sailing, easy to handlel, comfortable daysailor/weekending ,beautiful new yacht with a pedigree from a 1935 Olin Stephens #97 design. Sporting a modern keel and efficient hull design while maintaining proportions and deck house lines of the original, the new "BABE" is already turning heads at shows and with trade magazine editors. For a history of "BABE" and more detailed specifications visit one of their offices and say hello. Or of course visit our website: http://www.BluenoseYachts.com.
All three magazines have conducted thorough inspections of construction, design and sailing performance of the S&S 30 and announcing their award decisions before end of 2013. SAIL magazine recently posted a video review of the S&S 30 and was quite impressed. Their sailing print review is in the January issue of SAIL magazine.
Bluenose Yacht Sales with offices located in Newport, RI and Portland, Maine serves each client with personal attention to understand your preferences, experience and intended use in order to find the right fit that will deliver years of fun and yacht excitement for friends and family. Bluenose Yacht Sales is committed to "Excellence with Integrity" and long term client relationships rather than excessive size that can compromise quality of service.
Call BYS to discuss their brands or to explore how they might add value to assist your new or brokerage yacht purchase. BYS welcomes new listings where their marketing and sales experience can make a meaningful differences.
Call - 877 - 695 - 6538.