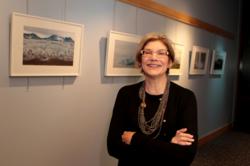 Helen embodies what Mike Moody valued most – rigorous scholarship, unbounded curiosity and appreciation for aesthetics," said Vincent Manno.
Needham, Mass. (PRWEB) December 20, 2012
Dr. Helen Donis-Keller, professor of biology and art at Olin College of Engineering, has been named the inaugural holder of the Michael E. Moody Faculty Chair. The chair was established by the board of trustees two years ago to memorialize the contributions and legacy of Michael E. Moody, a formative member of the Olin community who passed away in January of 2010. He served as vice president of academic affairs, professor of mathematics and founding dean of faculty at Olin.
"Dr. Moody was the embodiment of the type of curriculum and culture that Olin strives for," said Vincent P. Manno, provost and dean of faculty at Olin. "He was a strong proponent of exposing engineers to the liberal arts, science and business and ensured these elements were present in Olin's unique curriculum."
The Moody Chair is an honorific appointment by the provost of a full-time Olin faculty member who embodies Moody's appreciation of intellectual vitality and academic excellence, noted Manno. In addition to the title of Michael E. Moody Professor, the chair holder has access to a modest fund to promote the intellectual life of the Olin community.
Donis-Keller holds bachelor's degrees in both natural science and biology from Lakehead University in Ontario, Canada. She also holds a doctorate in biochemistry and molecular biology from Harvard University, and an MFA in studio art from the School of the Museum of Fine Arts in Boston and Tufts University. She was also awarded an honorary Doctor of Science degree from Lakehead University.
Prior to joining Olin, Donis-Keller held leadership positions in the biotechnology industry and in academia. She was director of the Human Genetics Department at Collaborative Research, Inc. where she led the research group that developed the first genetic linkage map of the human genome. Donis-Keller is also an internationally recognized artist, melding science and art by facilitating access to genetic ideas through her visual creations.
Moody and Donis-Keller shared a friendship as well as a scholarly and personal respect for one another. Her impact on Olin is emblematic of the academic and personal values they shared.
"Helen embodies what Mike Moody valued most – rigorous scholarship, unbounded curiosity and appreciation for aesthetics," said Manno. "Bringing the visual arts into an engineering school works to help the students venture beyond their intellectual understanding of the world and opens their minds to other professions and passions."