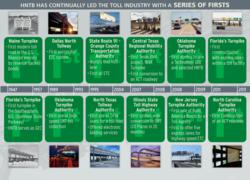 The toll facilities group is the muscle that strengthens our firmwide tolling capabilities.
Parsippany, NJ (PRWEB) December 19, 2012
The future of the nation's roads – and the engineers who design them – may well be paved by tolls. Earlier this year Congress passed the Moving Ahead for Progress in the 21st Century Act, which authorizes federal highway and transit investment through Sept. 30, 2014, and greatly expands the number of highway and bridge projects eligible to use tolls to address the need for additional, alternative infrastructure funding. The number of professionals in HNTB Corporation's national toll facilities group has grown by more than 20 percent in the last year to accommodate the projected growth in tolling.
"The U.S. toll market is expanding faster than ever," said Jim Ely, vice chair toll services. "HNTB continues its dominance in the toll market, but we want to strengthen our position. Toll agencies and departments of transportation are exploring adding more toll facilities to their systems."
Since the advent of the Interstate Highway System more than 50 years ago, the primary funding mechanism for the nation's major roadways at the state and federal level has been the gas tax. Now, the increasing fuel economy of vehicles, inflation, a lack of political will to raise the gas tax, and modern tolling technologies are encouraging a shift toward alternative forms of revenue – including tolls – to maintain and expand the nation's critical highway infrastructure.
"At least 10 DOTs considering adding or expanding their tolling programs, including strong interest from Missouri, Virginia, Louisiana, Arizona and Ohio," Ely said. "North Carolina is one of three states that have won approval for an interstate tolling pilot project. Many surveys routinely show drivers are more willing to pay tolls than taxes."
MAP-21 provides historic reforms that expand opportunities for tolling, including expanding the scope of tolling on interstates, with some restrictions; tolling new capacity on highways not part of the Interstate system, again with some restrictions; and allowing the conversion of high-occupancy vehicle lanes to tolled lanes as part of rehabilitation efforts on interstates.
"We see tremendous potential, particularly in the continued adoption of express lanes, priced managed lanes, and new tolled bridges, state highways and interstates," said Greg Le Frois, director toll facilities group.
Recent additions to the group include:

Theresa Weekes, CPA, has joined HNTB's toll facilities group as an accounting director. She most recently was director of finance for OliverMcMillian, a commercial real estate developer. She also is a 2010 graduate of the International Bridge, Tunnel and Turnpike Association's Leadership Academy and has served as the chief accounting officer for the South Bay Expressway, which was responsible for financing, designing, building and operating a $900 million private toll road in Southeastern San Diego.
Dan Robicheaux has joined the firm as a senior technical advisor. He most recently was director of programs for Electronic Transaction Consultants, and he has worked with many agencies across the country, including the North Texas Tolling Authority, the Harris County Toll Road Authority, the Louisiana Department of Transportation and Development, and the Utah Department of Transportation.
Carolyn Wofford is a toll systems operations analyst. She most recently was a customer service center toll operations specialist with the Texas Department of Transportation, coordinating customer service center facilities management and documentation, process and procedures.
Mark Dunton has transferred into the Toll Facilities Group from HNTB's Information Technology group. He has provided IT services for toll clients in Texas, Oklahoma, Ohio, Georgia, New Jersey and Florida since 2004. Notably, he worked as a project manager and technical lead on NTTA's all-electronic tolling conversion project.
"These individuals join an outstanding team of technical experts and consultants who assist the firm's toll clients with technology, operations and management challenges and opportunities," Le Frois said.
HNTB is the nation's No. 1 consultant to toll authorities, currently serving as the general engineering consultant to 24 toll agencies, more than any other firm. It has been a toll leader since 1945, when it became engineering consultant to the Maine Turnpike, the first of the modern turnpikes financed entirely with private funds. The firm quickly followed by designing the New Jersey Turnpike system in 1949, and it has worked closely with the both turnpikes ever since to keep their systems state-of-the-art. Other clients include the San Diego Association of Governments, the Miami-Dade Expressway Authority and Florida's Turnpike Enterprise.
The firm's tolling team helps clients achieve a balance among design, technological, operational, budgetary, scheduling and aesthetic concerns — ensuring toll programs are safe, compatible and economical for the communities they serve.
"The toll facilities group is the muscle that strengthens our firmwide tolling capabilities," Ely said.
Areas of expertise include assisting with the adoption of new tolling and transportation technologies, such as the latest in lane cameras and violation imaging as well as customer service technology. Le Frois said the toll facilities group also is active working to attract vendors outside the traditional marketplace to help bring the costs of certain services down, such as working with banks and other vendors to incorporate the latest electronic transaction processing tools to a toll agency's back office.
"No one else has the comprehensive tolling know-how of HNTB," Le Frois said. "Our goal is to continue that nationwide leadership. We're exploring the addition of more tolling professionals as demand for our suite of services grows."
HNTB Corporation is an employee-owned infrastructure firm serving public and private owners and contractors. With nearly a century of service, HNTB understands the life cycle of infrastructure and solves clients' most complex technical, financial and operational challenges. Professionals nationwide deliver a full range of infrastructure-related services, including award-winning planning, design, program delivery and construction management. For more information, visit http://www.hntb.com.