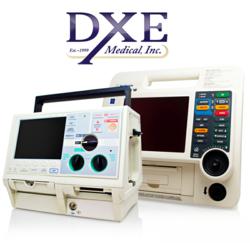 Brentwood, TN (PRWEB) December 19, 2012
DXE Medical Inc., located in Brentwood, TN, is the leading distributor of re-certified manual defibrillators in the United States. DXE Medical Inc. announced today that beginning December 19th, 2012, through the end of the month, the company will be holding defibrillator specials on LifePak 12 and Zoll M Series defibrillators. "As a thank you to our loyal customers, we wanted to extend special promotional pricing to close out 2012 with a bang!" remarked Donovan Sievers, International Sales Representative.
DXE Medical's end-of-the-year defibrillator specials are helping customers save on manual defibrillators, which are mainly used by hospitals, EMS and ambulance companies, as well as fire departments. "This is a great opportunity for professional healthcare facilities to take advantage of these special prices and save thousands of dollars during the month of December," said Director of Marketing, Justin Darby.
Each re-certified defibrillator goes through a 22-point screening process where it is thoroughly checked, tested, re-cased (if necessary), and meticulously cleaned. The customer receives an immaculate, perfectly functioning defibrillator at well below the price of a new one. "Customers have the ability to purchase re-certified manual defibrillators now for 75% below what they would pay for a new one," commented Darby. Customers can call 866-349-4363 to receive a free quote from DXE Medical Inc.
DXE Medical Inc. was founded in 1999 and now serves over 20,000 customers in all 50 states and 40 countries worldwide. For more information, please visit: http://www.dxemed.com/