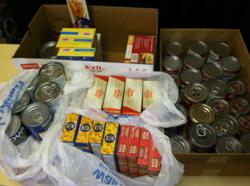 Jennie says, "I wasn't expecting to win, but when I did, my first thought was that there are many people who need it more than me."
Westminster, MD (PRWEB) December 20, 2012
During Thanksgiving week, MidAtlantic Farm Credit held a contest on Facebook allowing fans to enter their favorite vegetable dish for a chance to win a $100 gift card to a local grocery store of their choice.
The winner surprised everyone by donating the gift card to her local food pantry.
Thanksgiving is a holiday where friends and family gather to give thanks for their blessing and fortunes in life. For many, this includes being able to sit down to a turkey dinner and be grateful there is food piled upon their plates. But for others, hunger continues to be a serious challenge on a daily basis.
Jennie Schmidt of Maryland, was selected the winner with her entry of her grandmother's butternut squash rolls. When selected as the winner, she quickly tweeted her excitement and vowed to "pay it forward" to the Sudlersville Food Pantry in Maryland. This food pantry is associated with the Sudlersville Methodist Church and feeds approximately 75 families per month, every month.
Jennie says, "I wasn't expecting to win, but when I did, my first thought was that there are many people who need it more than me." Jennie also stated that the holiday season is demanding for food pantries that have more families to feed and in greater quantities. She says that the Sudlersville Food Pantry purchases hams and turkeys during the holidays, which are perishable and more expensive, therefore the donation should help offset those costs.
For more information about the MidAtlantic Farm Credit, visit website at mafc.com or follow them on Facebook and Twitter. Staff members are available at 888.339.3334 to answer any questions.
About MidAtlantic Farm Credit
MidAtlantic Farm Credit is an agricultural lending cooperative owned by its member‐borrowers. It provides farm loans for land, equipment, livestock and production; crop insurance; and rural home mortgages. The co‐op has over 10,500 members and approximately $2.3 billion in loans outstanding. MidAtlantic has branches serving Delaware, Maryland, Pennsylvania, Virginia and West Virginia. It is part of the national Farm Credit System, a network of financial cooperatives established in 1916 to provide a dependable source of credit to farmers and rural America.