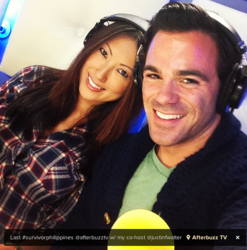 I completely took advantage of [Probst], but it was a fun thing.
Los Angeles, CA (PRWEB) December 21, 2012
Survivor Philippines' Sarah Dawson, Abi-Maria Gomes, Carter Williams, along with Matt Quinlan from Survivor: One World, joined AfterBuzz TV's Survivor aftershow on Monday night. In her first interview after the finale, Dawson dishes on her steamy kiss with Survivor host, Jeff Probst and how she thought his wife would react. Also on the aftershow, Gomes reveals details about her relationship with fellow contestant, Pete Yurkowski.
Survivor fans across the globe were shocked when Dawson gave Probst a hug and kiss after being eliminated. She was the first contestant in 25 seasons to do so and on the finale, she did it again.
"People have been tweeting at me the entire season saying, 'You have to get him again. Kiss him on the lips. Kiss Him on the lips.' and this was my last shot," Dawson says, "I see my man on TV...I completely took advantage of him, but it was a fun thing."
While the kiss looked spontaneous, Dawson had the entire thing planned out. She says, "[The producers] totally set it up. They didn't ask me or provoke me to do anything. As soon as I got on stage I unbuckled my shoes and hid them. I knew the only way I could get to him fast enough during the finale was barefoot."
After the kiss on the live finale, fans went wild on social media, many wondering if Probst's wife, Lisa Russell, would be upset. However, Dawson says the two hugged it out backstage after the show.
While a romance between the contestant and married host seems far fetched, there is a flame between two other contestants from this season. Gomes admits to Afterbuzz that she and Pete Yurkowski are together trying to make things work.
"He's in New Jersey though," Gomes says. Despite the distance, the couple already has plans to move in together.
Gomes also revealed that the fans didn't get to see a lot of their relationship. She teased, "You guys didn't see us in Ponderosa. [There was some] sexy time."
AfterBuzz TV's Survivor aftershow is hosted by Justin Walter, Survivor: One World's Christina Cha and Expedition Impossible's Ryan Allen Carillo.
The Survivor aftershow is a weekly wrap up show that broadcasts worldwide from Los Angeles, CA as part of Extra's Maria Menounos and filmmaker Keven Undergaro's online broadcast network, AfterBuzz TV. AfterBuzz produces daily post-game wrap-up shows for popular TV series, like Homeland, X Factor, Jersey Shore, WWE's Monday Night Raw and countless others. Currently AfterBuzz TV receives over 16 million downloads on iTunes per week from 75 countries. For further information about the network, visit afterbuzztv.com
Links to the episode can be found on YouTube and iTunes.
YouTube: http://www.youtube.com/watch?v=W-AdfS5v4Kw&list=UUCcVQKtF8zHVQoTJt8NNMJA&index=1