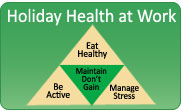 To foster a productive, healthy work environment during the holidays, both employers and employees must make an effort
Florham Park, N.J. (PRWEB) December 20, 2012
MediFit Corporate Services, Inc., a health and wellness management company releases a workplace wellness infographic detailing how employers and employees can promote a healthy work environment this holiday season. The busy holiday season can lead to poor food choices, a decrease in physical activity levels, and heightened stress levels. If not properly managed, these habits can lead to unwanted weight gain, decreased productivity, and other health issues.
The infographic outlines ongoing health issues at work that are heightened during the holiday season. As Americans spend at least a third of the day at work, the workplace can be a great place to promote healthy habits during the holiday season and all year round. Employers can work with an employee wellness vendor to design nutrition, fitness, and stress management programming for employee education and use. Employees can also implement simple techniques to make an effort to eat healthier, move more, and remain stress-free.
"To foster a productive, healthy work environment during the holidays, both employers and employees must make an effort," says Catherine Kolbeck, Director of Marketing at MediFit. "While employers can provide employee wellness resources and encourage participation, it is up to employees to utilize these programs and incorporate small changes to their days to reap the health benefits during this busy time of year."
The holidays are a busy time to manage work, family, and health-related matters. Holiday employee wellness programs can be utilized by employees who have anywhere from five minutes to an hour. By implementing health programs for employee education and use, employers can see a boost in corporate health, morale, and productivity as the year draws to a close.
About MediFit
MediFit Corporate Services, Inc. (MediFit) is a privately-held fitness and wellness management and consulting company. MediFit designs and manages corporate and community fitness centers and wellness programs throughout the United States and in three countries. MediFit is headquartered in Florham Park, New Jersey, with additional corporate offices in Norwalk, Connecticut and New York, New York.
For more information, go to http://www.medifit.com. Follow us on twitter @medifitcorp and like us on Facebook at http://www.facebook.com/MediFitCorporateServices.
For more information, contact:
Catherine Kolbeck, Director of Marketing
973.593.9000